K&F Concept 77mm Clear-Night Filter Multiple Layer Nano Coating Pollution Reduction for Night Sky/Star
£51.79
£54.99
5% OFF
Inclusive of VAT
&FREE Shipping to United Kingdom,Ireland
Brand:

K&F Concept

K&F XK43 77mm Natural Night Filter Reduces light pollution for clear night skies or star.

KF01.1119

SKU:

KF01.1119

51.79

https://www.kentfaith.co.uk/KF01.1119_77mm-natural-night-filter
Features
• Unique Function: Light pollution doesn't only adversely affect the quality of night-time city and architectural photographs but also scientific astrophotography in urban areas. K&F Concept Round Filter helps to reduce the unwanted effect of light pollution, giving photographs more contrast and clarity as a result.
• Material: K&F Concept Natural Night Filters made of double side Nano-Coating use waterproof and scratch-resistance technology ,bring the high-quality definition, low-reflection and no Vignetting.
• High Quality: Block the most common wavelengths of light pollution in the night sky,Significant improvement in the colors throughout the whole scene.
• Super Slim: The ultra-slim frame design of 3.8mm and Super aviation aluminum alloy material,will not produce vignetting for any brand of camera.
• NOTE: This Filter kit is compatible with all 58mm lenses. Please verify your camera's lens thread size(usually marked somewhere on the lens barrel or printed underneath the lens cap) before ordering.This number is always preceded by a "Ø" (diameter) symbol. For example: Ø58 = 58mm lens thread size.
Frequently Bought Together
Natural Night
The distinct filter is designed to block the wavelengths of light created by mercury vapour, sodium and other Low CRI lights that are often used as streetlights. These lights are usually yellow/orange and are the primary cause of light pollution around cities. This makes capturing beautiful nightscapes near cities very difficult.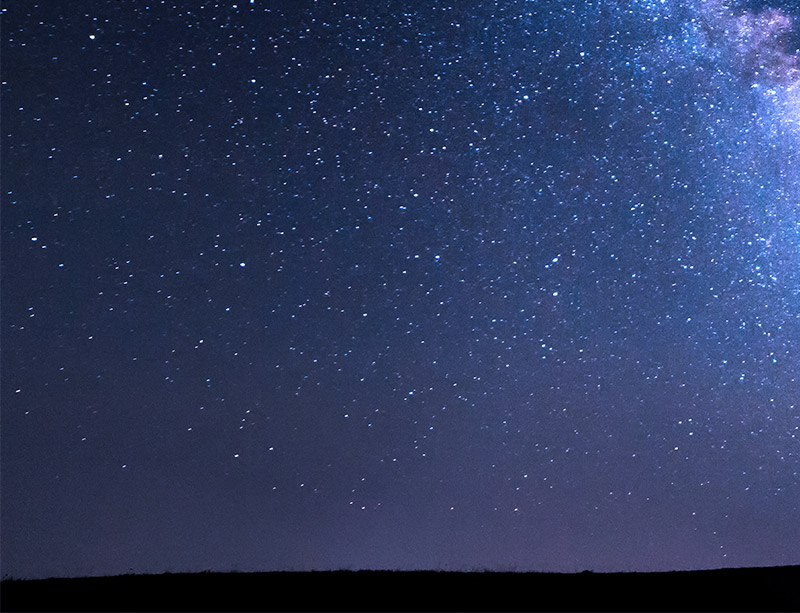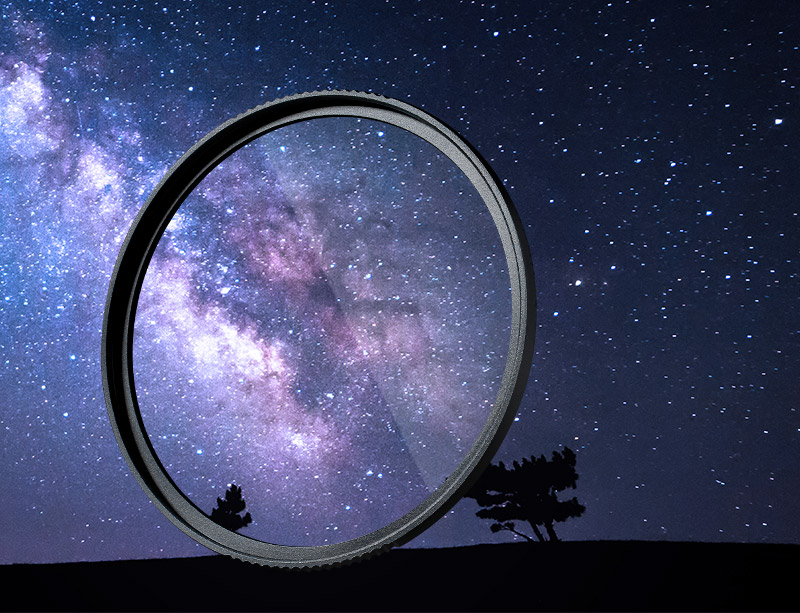 Multi-layer Anti-reflective CoatingTo Remove Light Pollution
If you are an ight photographer then you almost certainly have run into the horrible yellow glow of light pollution or the ugly yellow cast that street lights spread over urban nightscapes. This light pollution and yellow cast can hide stars and mess with the white balance of your scene.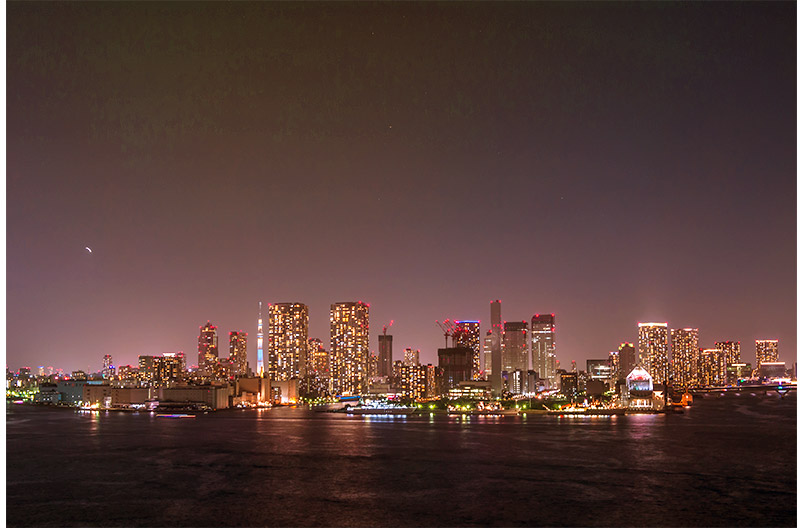 Without Natural Night Filter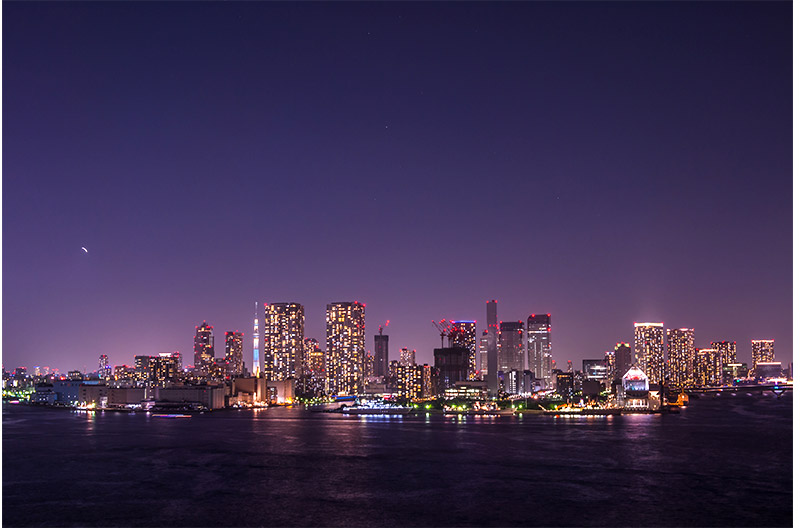 With Natural Night Filter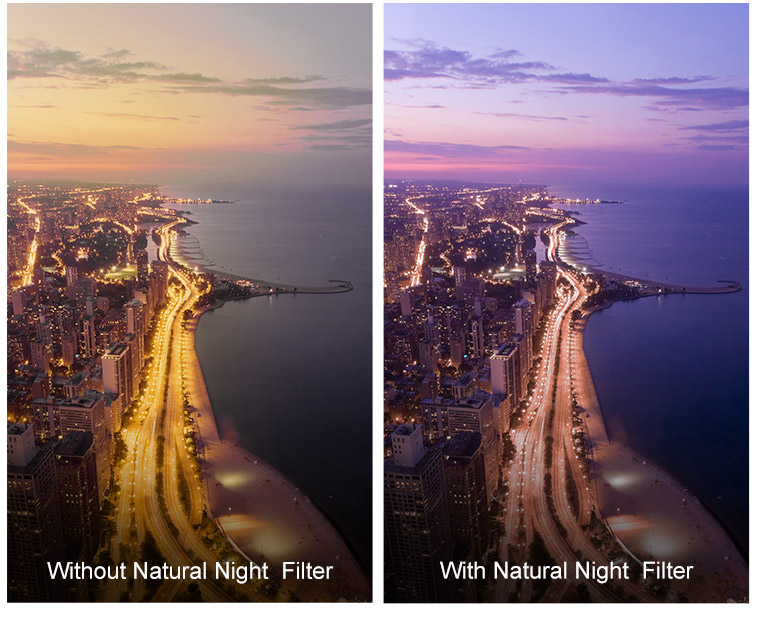 Keep far away from light pollution when enjoying the wonderful night
As you can see there is a significant difference in the yellow cast caused by the lights of the city. You also have an increase in the contrast of the image, especially in the areas that were washed out by strong nearby street lights. But you will also notice that you have a more magenta sky. Personally, I prefer the magenta sky over the yellow/green sky. But that is also an easy adjustment in post-processing.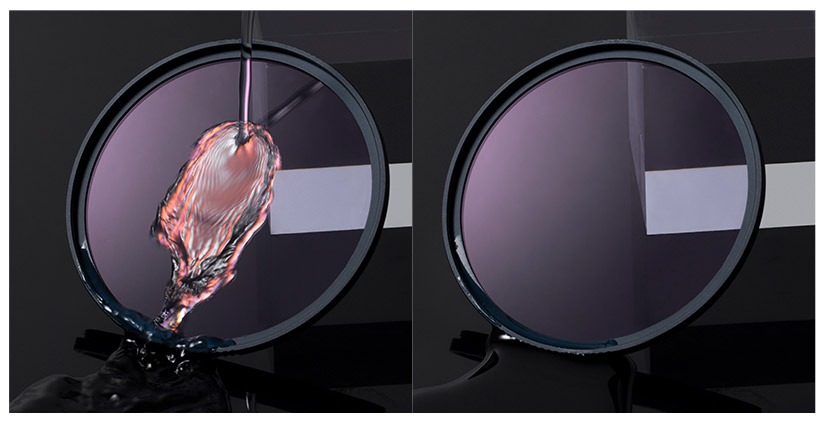 Nanometer Coating
The night filter is a glass filter that is coated with a double-sided multi-layer waterproof and oil resistant coating. This reduces ghosting and flaring and also prevents the natural oils on your skin from sticking to and smearing the filter.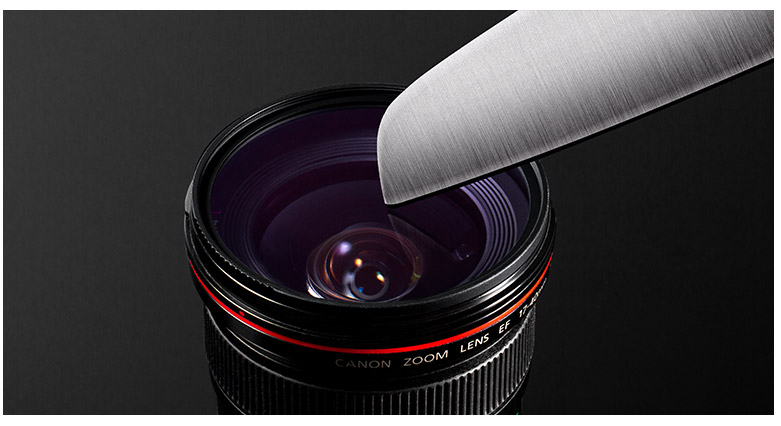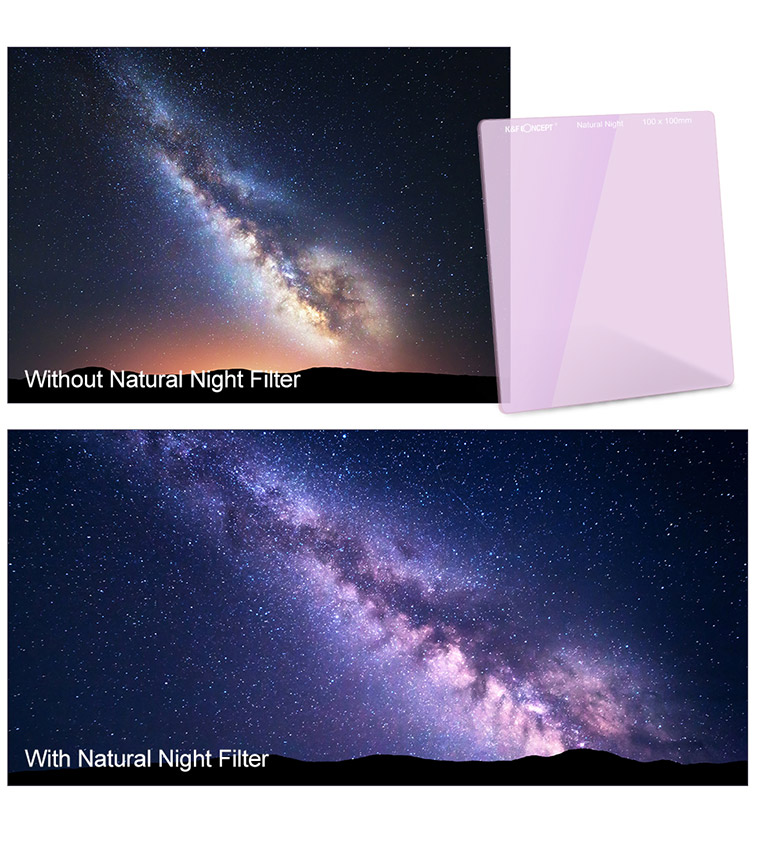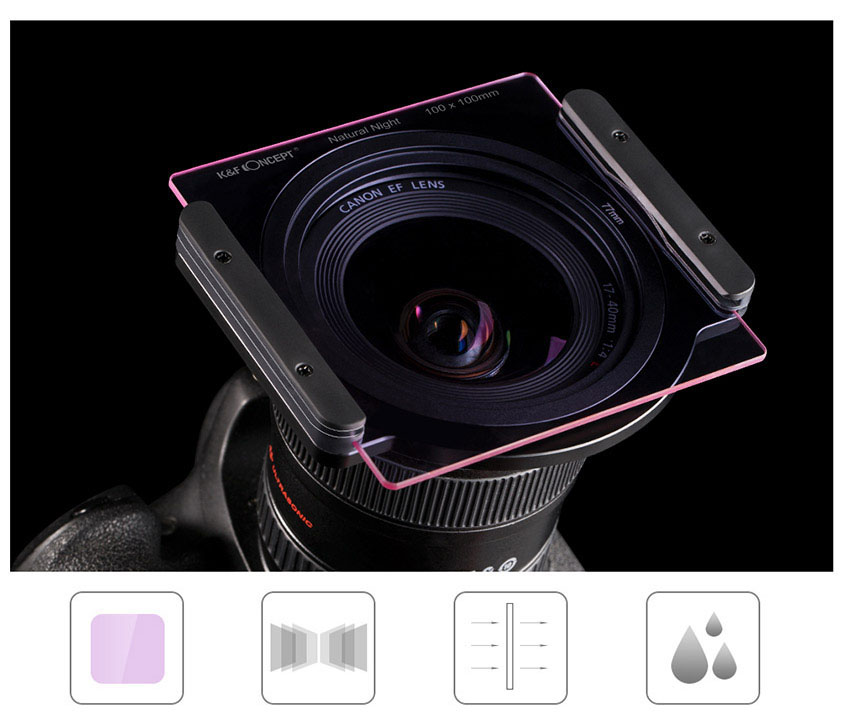 Colored
glass
Double-sided multilayer
anti-reflection coating
Double polishing
technology
Waterproof
and oil-proof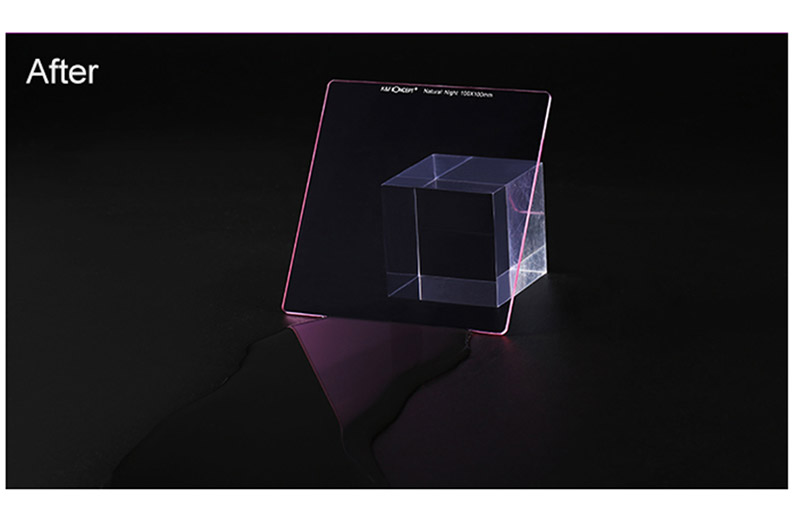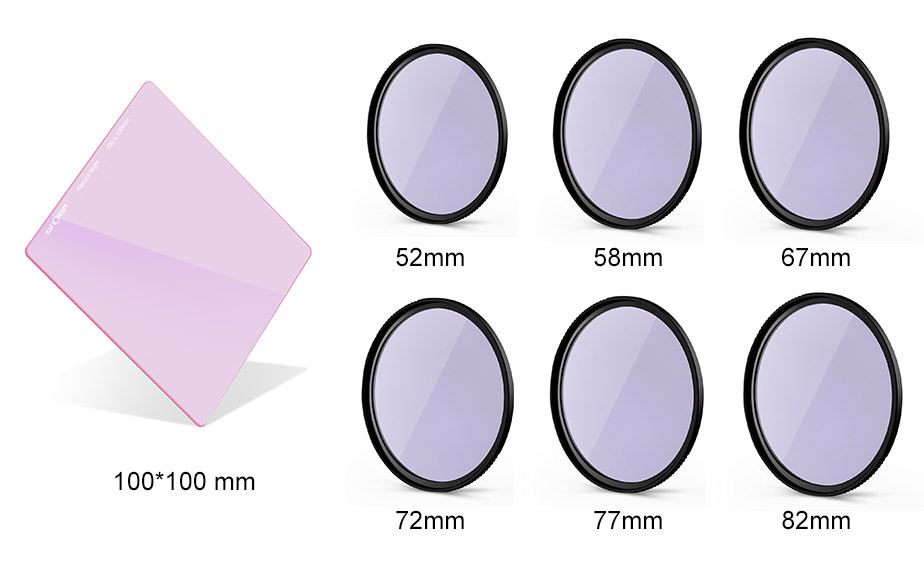 The filters are available in a variety of sizes to fit multiple filter holders.
Rating

0 reviews.

10 reviews.

55 reviews.

7 reviews.

55 reviews.

25 reviews.
Price

£54.99

£51.79

£61.99

£29.19

£109.99

£49.99

£11.99

£72.99

£54.01

£49.99

£31.19

Model
KF01.1119
KF01.973
KF01.1484
SKU0711
SKU.1596
KF01.1273

size

77mm
77mm
82mm
100x100mm
77mm

Transmittance

∕
∕
84%
∕

Multi-Coating

√
√
√
✓
√

Antireflection

√
√
√
√

waterproof

√
√
√
√

scratch-resistant

√
√
√
✓

HD

√
√
√
✓

Filter Material

Optical glass
Schott B270
Optisch glas
Optical glass

Pattern

√
√
√

Filter Thickness

3.3mm
5.5mm
3.3mm
7.0mm

Shape

Circle
Circle
Circle

Ring Material

Aviation aluminum alloy
Aviation aluminum alloy
Luchtvaart aluminium legering
Aviation aluminum alloy
There are no reviews for this product.
These images belong to K&F Concept end users.
A
Please verify your camera's lens thread size first(usually marked somewhere on the lens barrel or the lens cap).This number is always preceded by a "Ø" symbol. i.e. Ø77 = 77mm lens thread size.
A
1*77mm Light Pollution Filter 1*Carrying Box 1*Outer Color Box
A
Yes this is the natural light filter. I have this one and it's exactly what you need for night time photography. I wasn't certain at first, but if you take a picture with and then without, you'll see the difference.
Filter
size
77mm
Transmittance
∕
Multi-Coating
√
Antireflection
√
waterproof
√
scratch-resistant
√
HD
√
Filter Material
Optical glass
Pattern
√
Filter Thickness
3.3mm
Shape
Circle
Ring Material
Aviation aluminum alloy