DSLR Camera Travel Backpack for Outdoor Photography 18.9*11.4*6.7 inches
£73.99
£109.99
32% OFF
Inclusive of VAT
To
United Kingdom and Ireland
Expedited Free Shipping
3-5
business days
DSLR Camera Travel Backpack for Outdoor Photography 18.9*11.4*6.7 inches

KF13.080

SKU:

KF13.080

73.99

https://www.kentfaith.co.uk/KF13.080_dslr-camera-travel-backpack-for-outdoor-photography-18.9-11.4-6.7-inches
Features
* Exterior Dimension: 11.42"*6.69"*18.90"; Holds 1 DSLR cameras,1 lens and other photography essentials.
* Space Improvement: Dedicated pockets for carrying laptops up to 14"; The upper compartment can hold clothes.
* Durable Material: Splash-proof and tear-resistant nylon material, sturdy and durable.
* Convenient Design: Quick body-side access, and the backpack can also be a casual bag when taking the camera insert out.
* Stronger Protective: Thickened outer walls and removable inner dividers can stabilize your gear and protect it from shock and strike.
Shipping
To
United Kingdom and Ireland
Expedited Free Shipping
3-5
business days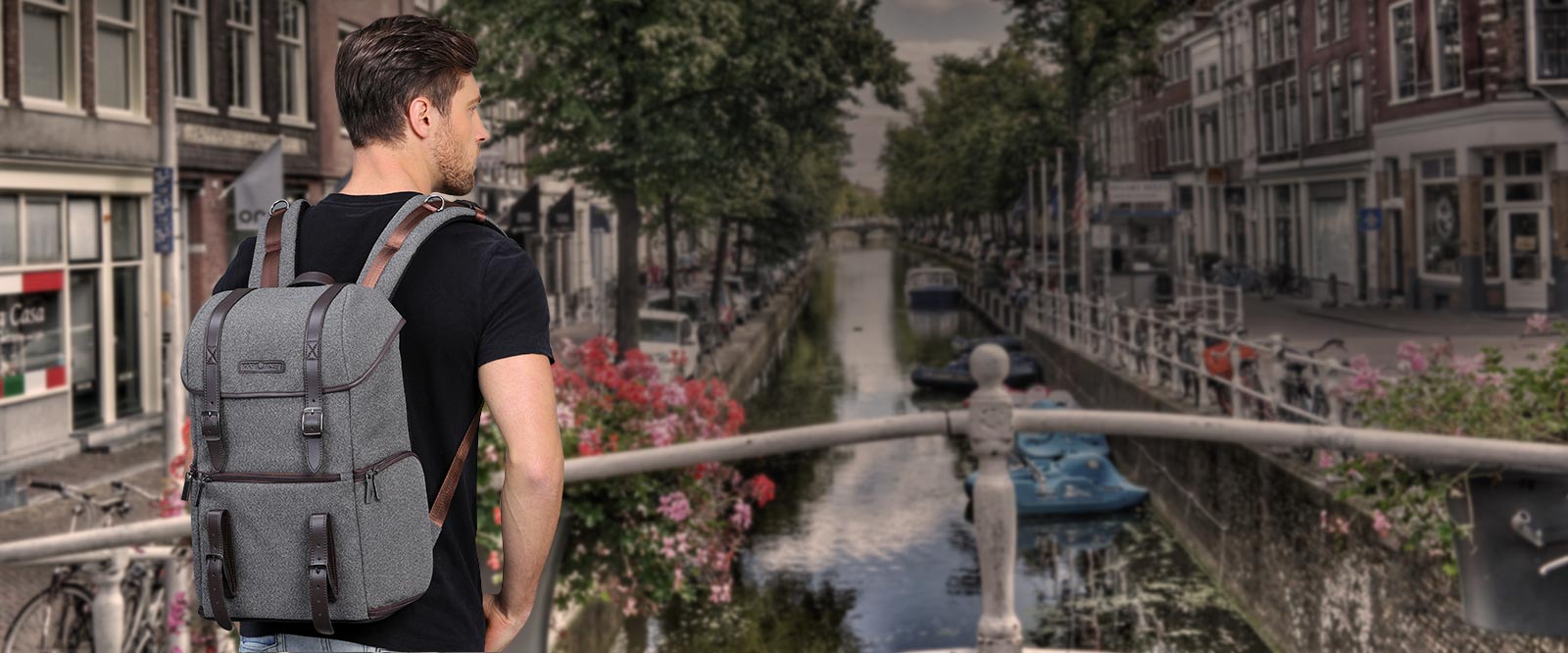 DSLR CAMERA BACKPACK MULTIFUNCTIONAL WATERPROOF NYLON BAG WITH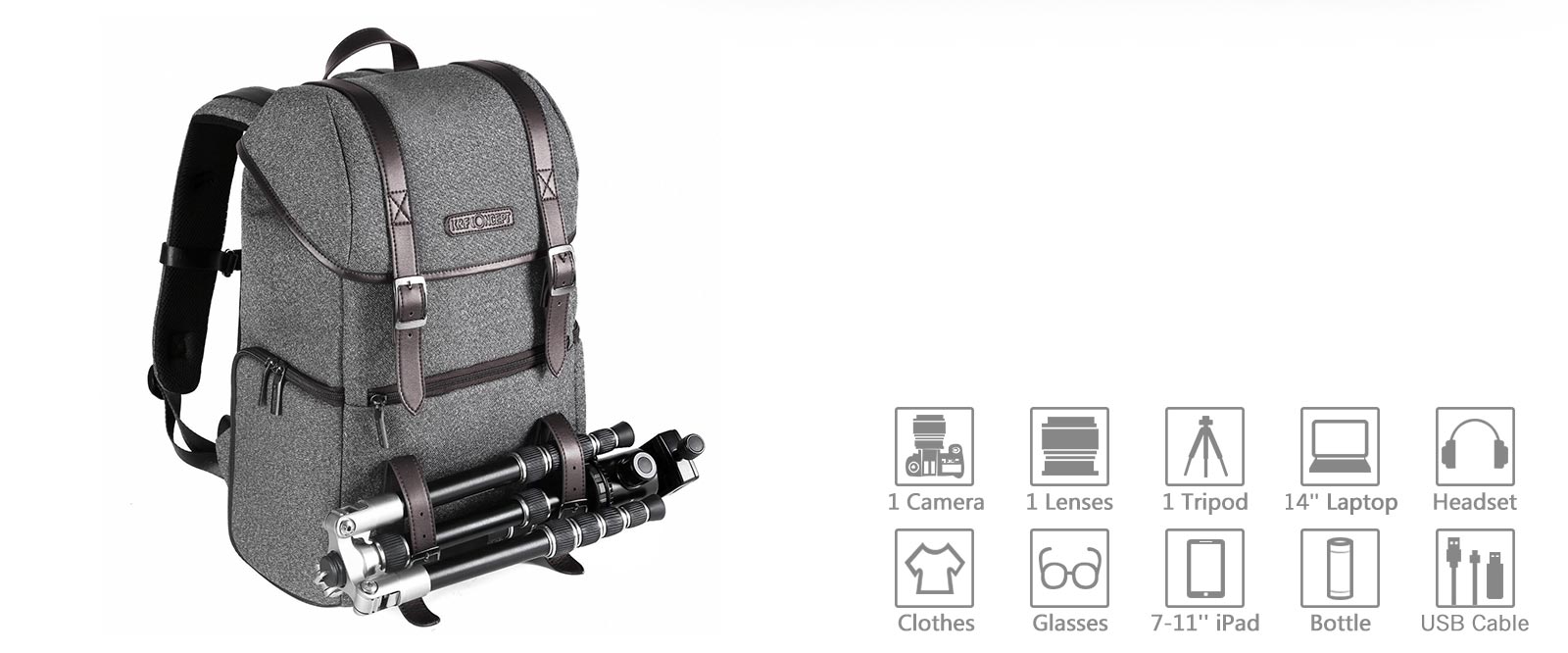 CAPACITY UPGRADE
Hold 1 camera + 1 lenses+ 14'' Laptop+1 Tripod+ other photo essentials.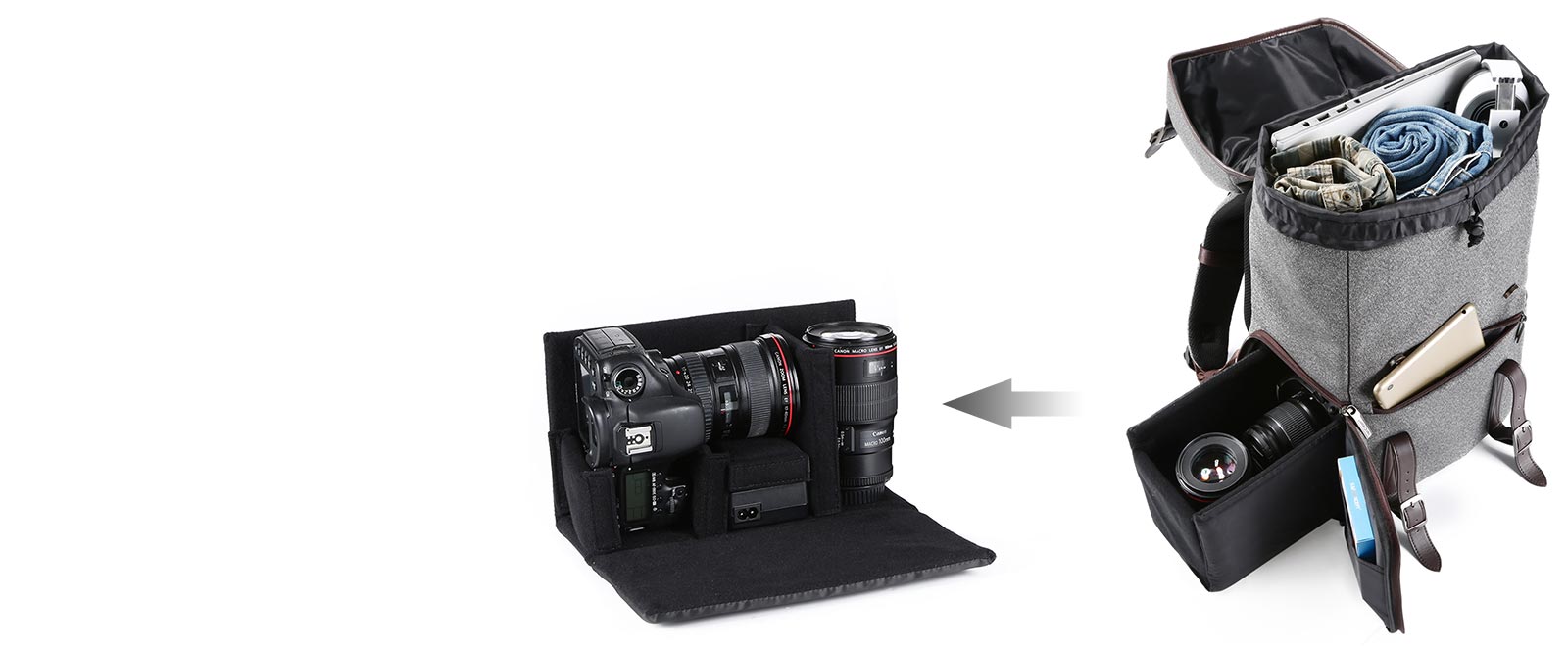 DIVIDED COMPARTMENT
Thickened and adjustable dividers can be more effective to protect your photographic equipment.

PRACTICAL CAPACITY
Adequate Personal Items Compartment Dedicated clothes compartment and laptop compartment ( up to 14").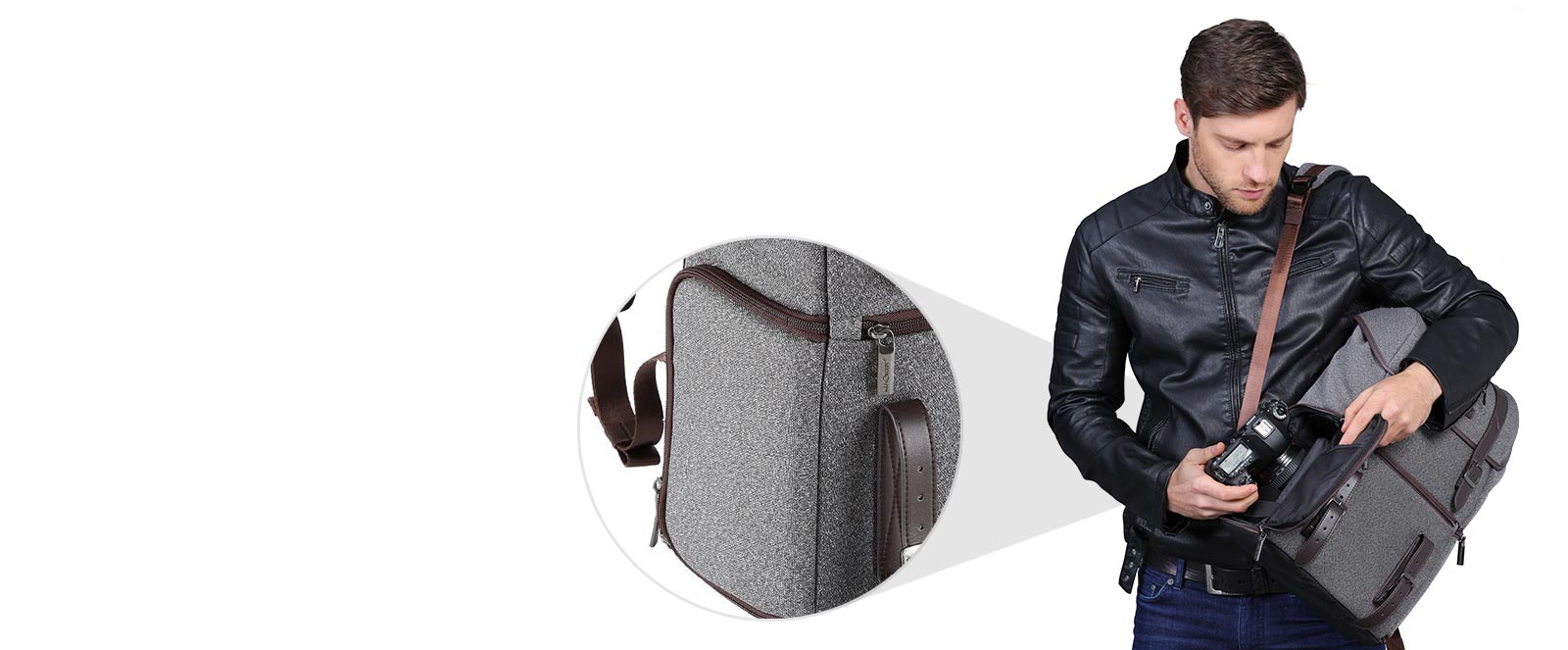 SIDE OPENTING
Rightside access lets you get your gear without putting the bag down.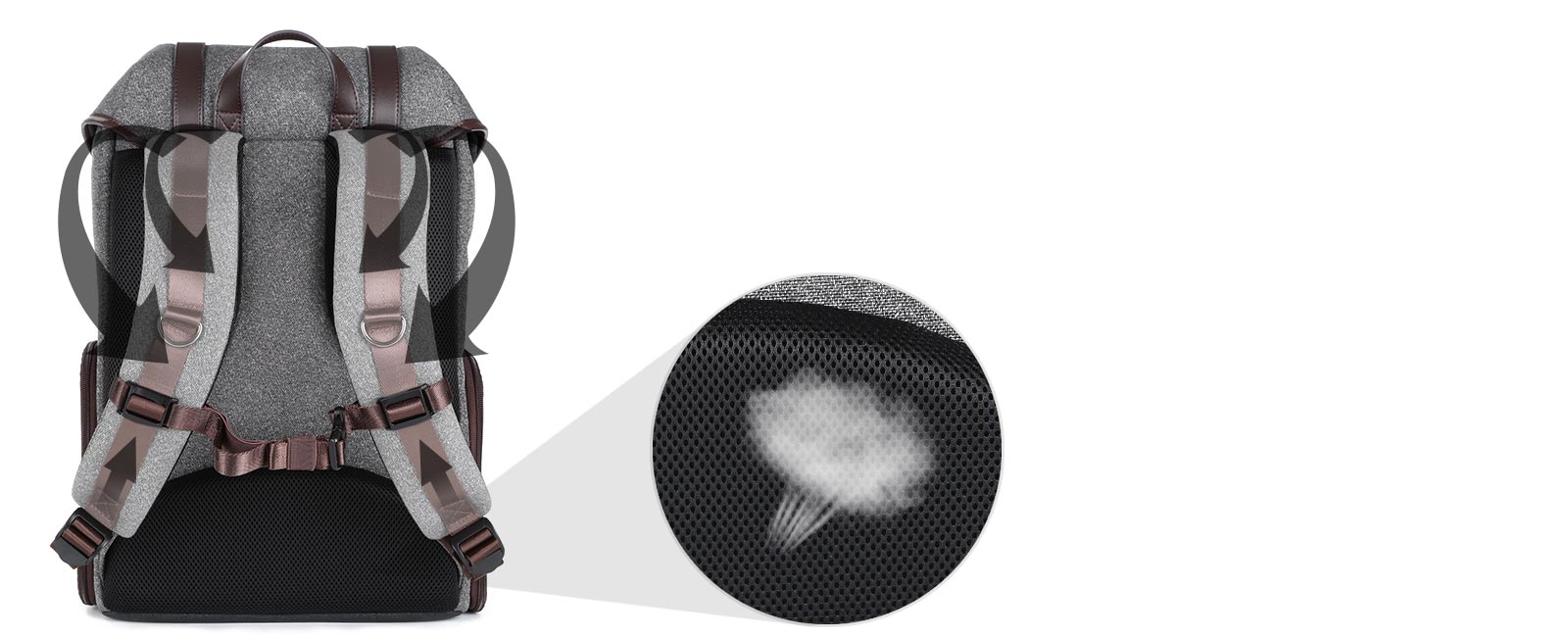 EASY TRAVEL
Breathable air-mesh widened and thickened shoulder strap and back; Adjustable chest belt keeps the straps tight on you shoulders.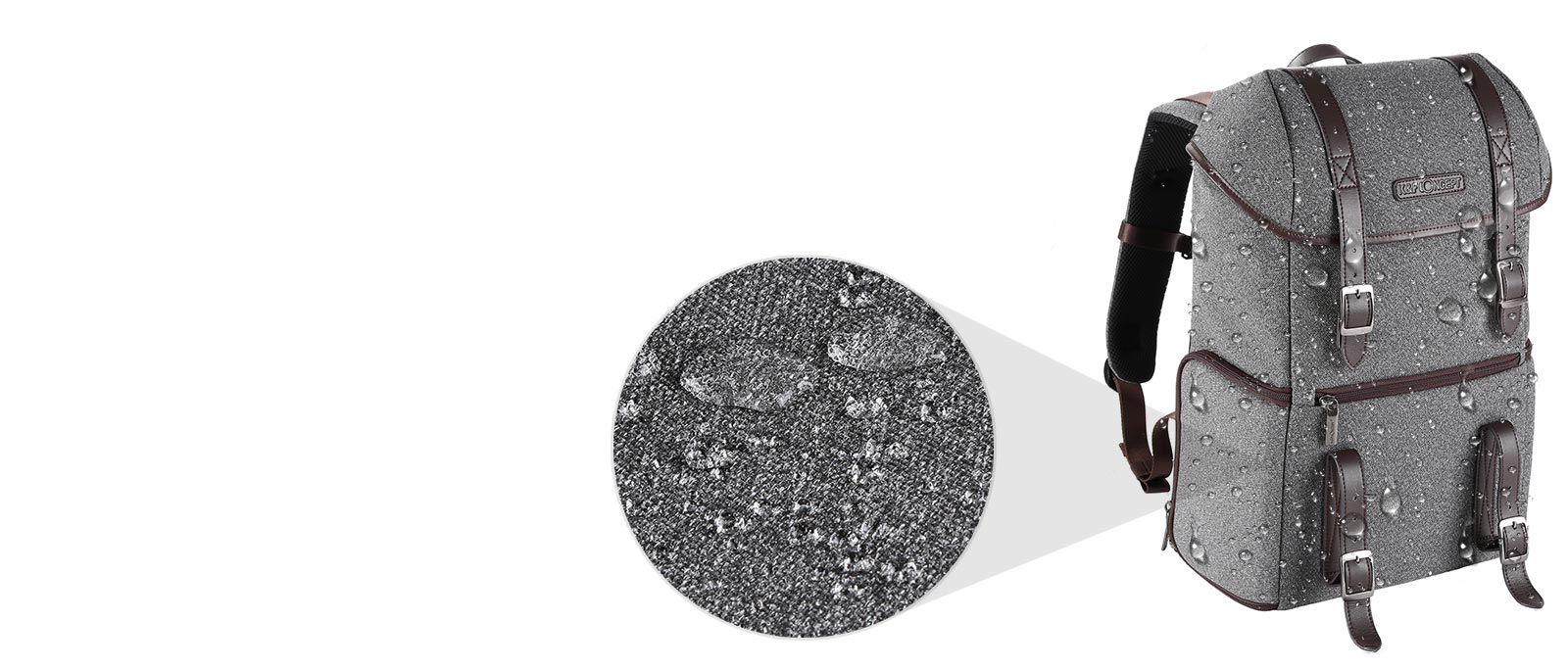 WATERPROOF NYLON
Made of Waterproof Nylon ,scratchresistant, tear resistant.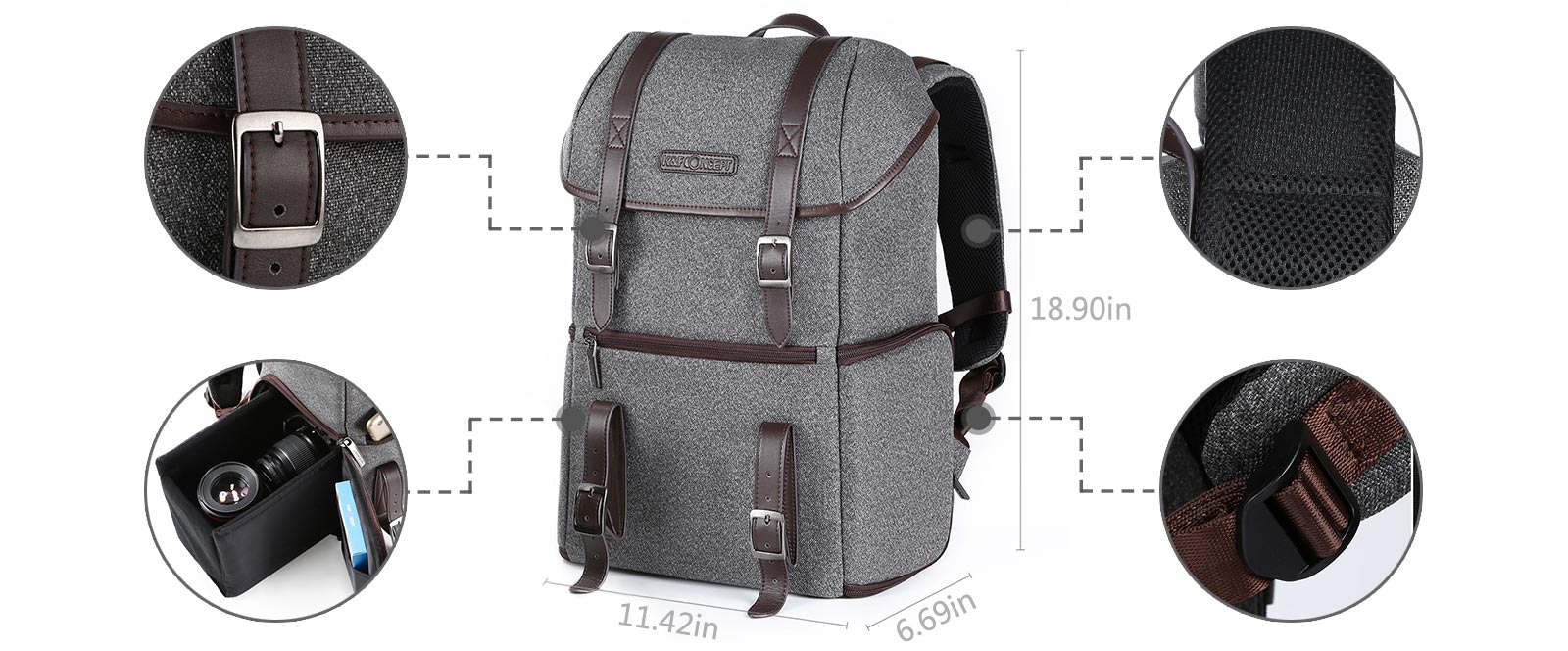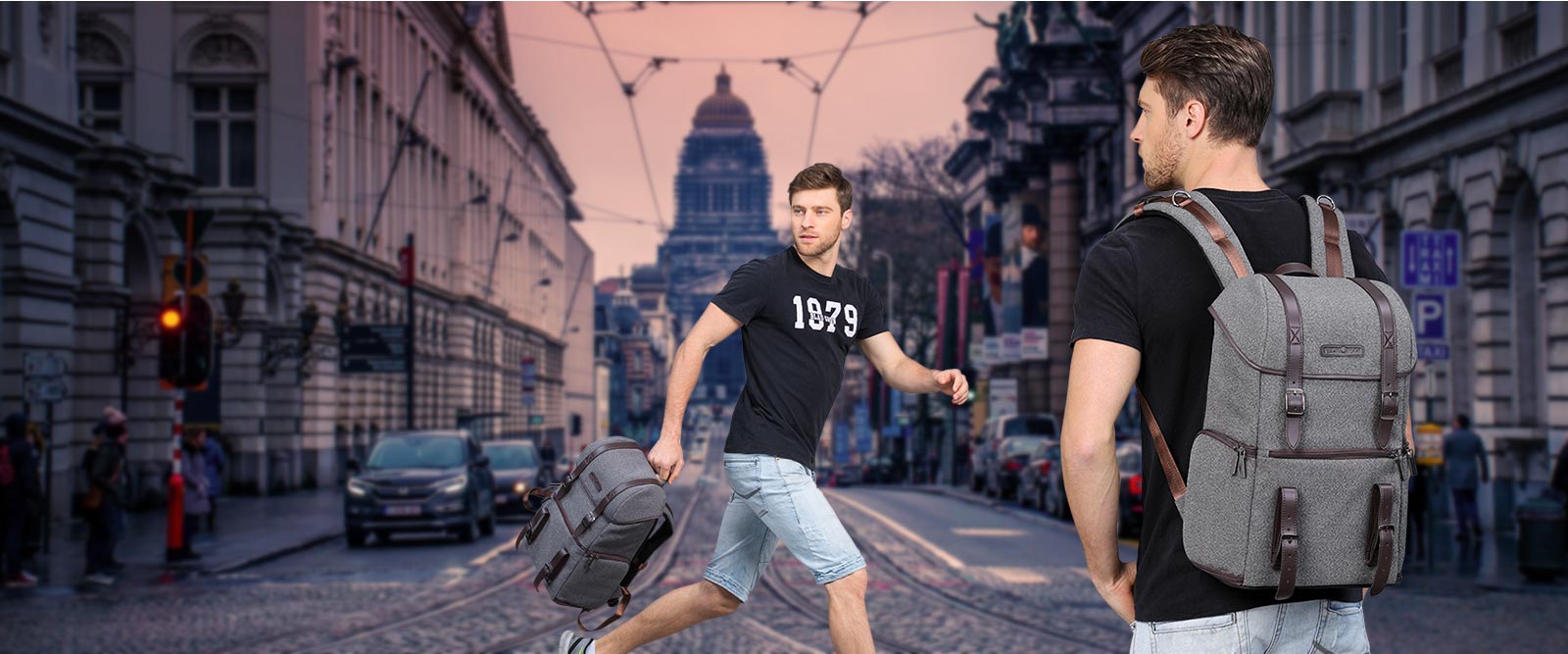 STYLISH PHOTOGRAPHY BACKPACK
DSLR Camera Backpack Multifunctional Waterproof Nylon Bag with.
This K&F Concept backpack is a very stylish and modern backpack for photographers.
This K&F Concept backpack is a very stylish and modern backpack for photographers, it is very well made and feels high quality, it is also waterproof and breathable at the same time.There are many compartments in this backpack to keep all your gear safe, you have a large compartment at the top just as a normal backpack would have and this is secured with a draw cord as well as a top cover which is fastened with magnetic buckles. You can fit a wide variety of items in this compartment such as a 14" laptop, headphones, tablet and more.Now onto the main compartment for your camera, this is located on the bottom of the backpack on the side, this has a insert which your camera and lens can safely fit into. You can get a DSLR with a medium sized lens and one more lens into this compartment so don't expect to bring every lens you have.There are more cool little compartments too for SD cards and whatever else you would want to bring along with you. And something very cool is that you can actually remove the camera insert in the bottom and use this as a normal backpack.Overall I think this is an awesome, versatile and functional backpack that is comfortable and easy to adjust to your personal preference and needs and while you don't have loads of slots for your camera gear I think this will appeal more to people who want to travel light and bring just one bag with your camera and favourite lens with room for a spare set of clothes a snack and your laptop!
18/10/2017
Only suitable for one DSLR camera plus one medium lens
Quick delivery as always.Bag not quite as big as expected it to be.Can only get one full frame type camera in bottom section with one medium size lens attached. But difficult to extract camera from bagQuality seems good but not had chance to confirm bag is waterproof yet
07/08/2018
Perfect!
This is my favorite backpack ever! I ordered it for when I was going to California for a 2 week trip, and I wanted a backpack that I could have with me on my adventures that fit my camera and some other necessary stuff like extra clothes and water bottle and still was stylish. This one right here filled all the requirements. It's super comfortable, sturdy and fits all you want to have with you. I love the side compartment so it's super easy to access your camera without having to open up the whole backpack.I also had it with me to Disneyland and Universial Studios as just a regular backpack to carry warmer clothes because it got chiller in the evenings and I left it in the lockers on both places and it fit perfectly in the smaller ones so you didn't have to pay extra for the bigger locker.So end note, if you want a stylish, sturdy, comfortable, roomy backpack this is definitely the one!PS. It also fits perfectly under an airplane seat! (if it's not to thick!)
28/06/2018
Five Stars
Just what i wanted
22/03/2018
Just what I was looking for!
This backpack is so much more than I expected! I was looking for something that would be functional, but also... cute! As a photographer in Stockholm I needed something that had the ability to be multifunctional, and still looked decent to have around clients. Light weight, waterproof, padding and pockets are all great. The description says only 14'' laptop, but I was able to fit my 15'' MacBook pro no problem and power cable, along with Sony A6500, two lenses, two books, pens, chargers and a few more things. Sturdy and high quality. I can definitely see myself having this backpack for a long while.
03/03/2018
Five Stars
great looking product, good quality and very practical.
09/02/2018
A well designed and made bag.
Very well thought through design, especially the protective surround for the DSLR and lens that pulls out from the side of the bag - the camera is thus instantly accessible. Other camera backpacks I've used have unzipped to get to the whole interior: my concern with these has always been the thought of accidentally picking up the unzipped bag and distributing my equipment down the pavement / mountainside etc. There is no way that this can happen with this bag as the camera compartment is very secure. I've only taken the bag out for a walk once at time of writing, but on that single basis, it's very comfortable, seems to ride high on my back, which is the correct position as far as I'm aware - lower slung bags can lead to back pain. An excellent product.
06/02/2018
A must for those days out in the hills or in the city.
The best things come in small packages & this bag does not disappoint. It's well made, & more than tips the hat at 1950's satchel designs from the continent (France in particular). Although it looks small it is a little tardis! First off the construction; the shoulder straps are well finished with very useful metal 1 piece D - Rings on both sides. full adjustable the nylon straps & plastic buckle feel strong. The padding is excellent, & being in mind you may be carrying anything upward of 15kg, these are be a great asset. The chest strap is elasticated , but if like me you not fussed its easily positioned lower down the pads & out of the way. I have to mention the contrasting brown & blue grey finish to the bag. It looks very flash & add to the retro feel. There's no waist strap, but its really not needed so don't let the absence put you off. as they're really not needed.The back of the has 3 good pads for covering the shoulder blades & supporting the small of the back, given that most of the weight is sat at the bottom of the bag this makes perfect sense & the designer has really done their homework on ergonomics. There's a small vinyl leather carry handle at the top, again echoing that retro look & would be useful for retrieving from the floor or a transport basket. On the rear of the bag are two adjustable vinyl leather loops. As I do a lot of outdoors photography I popped in my heaviest tripod, and they secured it without issue. As I walked it didn't shift much once settled & didn't upset the balance of the bag. Just be away that you tripod may well be wider than the bag, so be careful when your trying to move through crowed areas. Just below these straps is a small zip pocket which is just the right size for a packet of the all important sweets or notepad & pencil.The bag itself is split into 4 compartments. Top, Back, Bottom Camera, Bottom Ancillary, all of which are treated top a nylon waterproof liner. First off the top. Its big enough for a set of water proof jacket & trousers as well as the all important spare socks. Against the actual back of the bag is a pocket that runs the entire length of the bag this will catty a notebook with ease & most definitely fits a tablet. It's also padded both sides. The bottom section is the master piece of this bag. Open one side & you have padded storage for memory cards, spare batteries, filters & cleaning kit (one is kindly included with the bag, with an atomiser for your de-ionied water).The other side houses a fabric covered foam platform. This held my D300 with 18-70 lens & 55-300mm lens with ease. The platform forms a protective shell around the camera & lens that can be easily lifted out & for that the design team should be congratulated. As with all the bags sections its surrounded by a nylon water proof shell so no worries about kit getting drenched before you start. The real genius of the bag is that you can omit the camera platform & remove a spacing pad between the top & bottom sections t give you about 17ltrs of space. So I imagine if your a videoographer this is a boon.The bag itself is comfy to carry, even on one shoulder, & with continued use the stiff outer shell will soon soften & the bags water resistant outer will take on its own look.My verdict - buy it you will not be disappointed. Ideal for location shoots, suitable to take to client visits when showing off your portfolio, & the retro feel combined with space & design makes it an ideal college/university bag.
25/10/2017
These images belong to K&F Concept end users.
There are no faqs for this product.
Bag Compartment
Carrying/Transport Options
Backpack
Camera Support Strap
Yes
Camera Compartment
1
Lens Compartment
2
Laptop Compartment Screen Size
15 inch
Bag Exterior
Exterior Color
Gray
Exterior Dimensions
29*15.5*44cm
Exterior Material
Nylon
Type of Closure
Metal magnetic button
Rain Cover
No
Bag Interior
Maximum Volume
24L
Weight
1.52kg