TC2534 Carbon Tripod Monopod Kit for DSLR Camera 66 inch Lightweight Professional fit Canon Nikon
Brand:

K&F Concept

Buy K&F Concept tc2534 carbon tripod monopod kit for dslr camera 66 inch lightweight professional fit canon nikon online, £119.99 free shipping to UK.

KF09.010

Availability:

In Stock

119.99

https://www.kentfaith.co.uk/KF09.010_tc2534-carbon-tripod-monopod-kit-for-dslr-camera-66-inch-lightweight-professional-fit-canon-nikon
Buy 2+ items get

10% off

!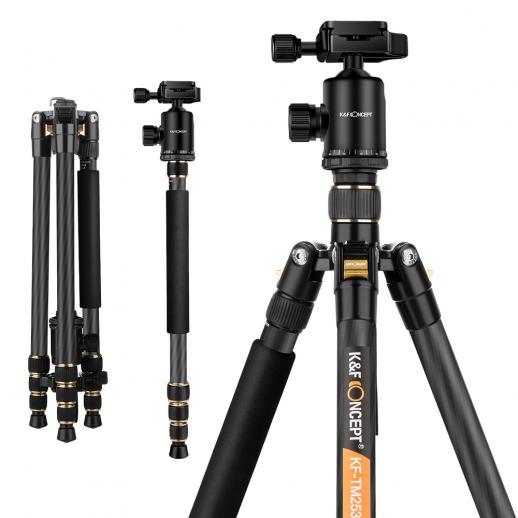 TC2534 Carbon Tripod Monopod Kit for DSLR Camera 66 inch Lightweight Professional fit Canon Nikon
Features
• 【Carbon Fiber】Tripod tube made of quality carbon fiber, can anti-folded 180 degrees reversely and install inverted,improve the portability.
• 【Strong Stability】25mm large diameter tube,the load capacity can reach 22.04lbs (10kg), provide security and stability support for your camera; Metal spiral type locking knob, more solid and stable.
• 【Monopod Mode】It can be turned into a monopod or walking stick alone to make your photography more diverse.
• 【360º Ball Head】Ball head with quick-release plate,can be rotated 360 degrees, then helps to improve camera activity range when panoramic shooting.(Included bubble levels)
• 【Center Column】Center column inverted installation to realize the lowest angling shooting, macro shooting, or other special photography. (Note: For camera with telephoto zoom lens, you need to buy a tripod mount ring additionally or telephoto lens bracket for better balance)
Frequently Bought Together
KF-TC2534
Multi-purpose Carbon Tripod for Photography
Product Parameter
Sections 4

Minimum height
17.52″(44.5cm)
Maximum height
66.14″(168cm)
Folded 19.29"
(49cm)
Eight Layers Of 100% Carbon Fiber
Carbon fiber is lighter and more secure.
360°
Rotation
Clear Scale
22lbs (10kg)
Load Capacity
Rubber gasket & Back security plug
1.42" (36mm)
Ball head
Large spheres are more stable
Low Angle Photography
Lowest angle shooting, macro shooting, and special photography can be achieved through inverted central axis.
Aluminum and
magnesium alloys
Dense sponge grip
Spiral type locking knob makes operation easier and quicker
LEG SEPARATION
Dense sponge grip
Carbon fiber and
magnesium alloys
Unipod Information
Height : 165cm


Model information
Height : 185cm

EASY TO SHOOT
The maximum height is 66.14"(168cm), the maximum height of the midaxis is 55.9"(142cm)
Good quality product
Most travel tripods are a little on the short side and my current Sirui tripod is no exception with a working height of 120cm (or 145cm with centre column extended). After some research, I was pleased to find the K&F TC2534 had a non-extended working height of 142cm. This would be an ideal height, especially as the centre column is removable ( I dislike extendable centre columns). I had purchased a K&F TC2335 some months previously, but was underwhelmed by the quality of construction, so returned it. On opening the box of the TC2534, I was immediately impressed. It is a very well made quality product and sufficiently sturdy with the legs extended fully. The adjustment catches on the legs work well and feel positive as do the friction joints on the legs. I was also pleased to discover that the feet can be unscrewed, so I've ordered some spikes for use on muddy surfaces. The ball head is quite substantial and has a smooth action, although I've replaced the supplied clamp with a quick release clamp as a personal preference. The supplied bag is quite roomy, so I don't have to fight to zip it up. There's also room to keep some accessories (e.g panning clamp & nodal slide) inside the bag. All in all, a lot of thought has gone into the design of this tripod and I couldn't be happier with my purchase. However, I do have one suggestion for improvement. It would have been nice to have a spirit level on the legs so the tripod legs can be levelled for taking panoramics.
Versatile, Sturdy, easy to use and Worth the money
I have never really been overly fussed about carbon fibre tripods, I've used metal tripods for years and liked the weight of it. When the K&F Concept 67" Carbon Fiber Camera Tripod arrived I was surprised at how light weight it was, The Ball head is the heaviest part of the tripod. Now I must admit i have a low profile KFconcept ball head so i changed it over onto this tripod. The legs are smooth and quick to release and retain and I like how premium it feels.The tripod handled everything i threw at it. I went out on a four hour shoot do take some star trail shots.. The tripod was that sturdy that I didn't need to align any shots in Photoshop! no camera shake, no movement. It was SOLID.I took some macro shots and again, no shake and the image pin sharp.The last one I tried was a 6 minute sunrise shot and again even with wind the tripod was solid. I didn't weight the tripod down with my bag. It didn't need it..If you are in the market for a new tripod I would highly recommend this one, you won't be disappointed, It's VERY sturdy and I would be happy to and already do use it for my paid photography work.
Lightweight, Sturdy, Reliable
The tripod has really exceeded my expectations. I thought it may time some time to learn how to use it properly, but it is very intuitive and I figured out how to adjust the different heights and angles almost without even looking at the manual. It can be a little fiddly to adjust the individual legs (if situation requires it) but as I've used it more this process has sped up. Despite how lightweight it is, the tripod feels sturdy even when used outside and overall the build quality is very high; most likely due to the carbon fibre. Mounting a camera takes seconds and is easy to adjust once its mounted. For an amateur photographer like me I would definitely recommend it. I've been tempted by cheaper tripods in the past but nothing has come close to the quality feel of this K&F tripod. It comes with a really nice case as well, so carrying it around is not inconvenient at all.
Worth the money.
Really good, just what it claims to be.
Amazing tripod
This tripod has really amazed me as its so lightweight for its size. Its also very sturdy which is important for the long exposure photography that I am interested in. The mount at the top is well made and secures my camera very efficiently. An additional feature that I find very useful is the ability to turn the leg of the tripod into a monopod. This is useful in situations where I am not able to carry the whole tripod such as at events and festivals. Overall, highly impressed with the construction and build-quality of the product. It even came with a nice carry case.
Treppiede fotografico, quale scegliere? • Cavalletti K&F Concept [Recensione]
Best Budget Carbon Fibre Tripod
These images belong to K&F Concept end users.