204 LED Video Light with Mini Tripod Stand, Dimmable 3200K-5600K Rechargeable
£34.99
£52.99
33% OFF
Inclusive of VAT
To
United Kingdom and Ireland
Expedited Free Shipping
3-5
business days
K&F Concept 204 LED Video Light with Mini Tripod Stand, Dimmable 3200K-5600K Rechargeable On-Camera Panel Light with Hot Shoe Mount NP-F550 Li-ion battery for YouTube All DSRL Cameras Camcorders

KF34.012V1

SKU:

KF34.012V1

34.99

https://www.kentfaith.co.uk/KF34.012_led-camera-camcorder-video-light-panel-for-lighting-in-studio-or-outdoors-2800k-to-6000k-variable-color-temperature
Features
* 【204 LED VIDEO LIGHT】: Adopts 204 high power lamp beads, nearly perfect to restore the color of the shooting object, improve the shooting effect, high color rendering index giving the photographer wider lighting range and brighter effect.
* 【1/4-INCH THREAD MOUNT & Lights Connector】: Can be put on any standard hot shoe of most DSLR or digital video cameras, tripods and light stands equipped with a hot shoe mount or 1/4-inch thread. And the lights connector can can connect many lights together to meet your more shooting needs.
* 【BRIGHTNESS ADJUSTABLE】: Color temperature and brightness can be adjusted between 3200K-5600K, the digital display can clearly show information about color temperature and power.
* 【BATTERY AND BATTERY CHARGER】: Never run out of battery power when you're just about to capture the perfect moment, get extra power for your equipment; Smart charging LED indicates when charging is complete and prevents battery from overcharging.
* 【KIT INCLUDED AND WARRANTY】: 1 * K&F Concept 554g LED video light; 1 * MINI tripod; 1 * NP-F550 battery; 1 * charger; 1 * hot shoe; 1 * fixed chassis; 1 * 1 * storage bag. 12 months free warranty and lifetime Customer Service, we will reply to all your questions within 24H.
Shipping
To
United Kingdom and Ireland
Expedited Free Shipping
3-5
business days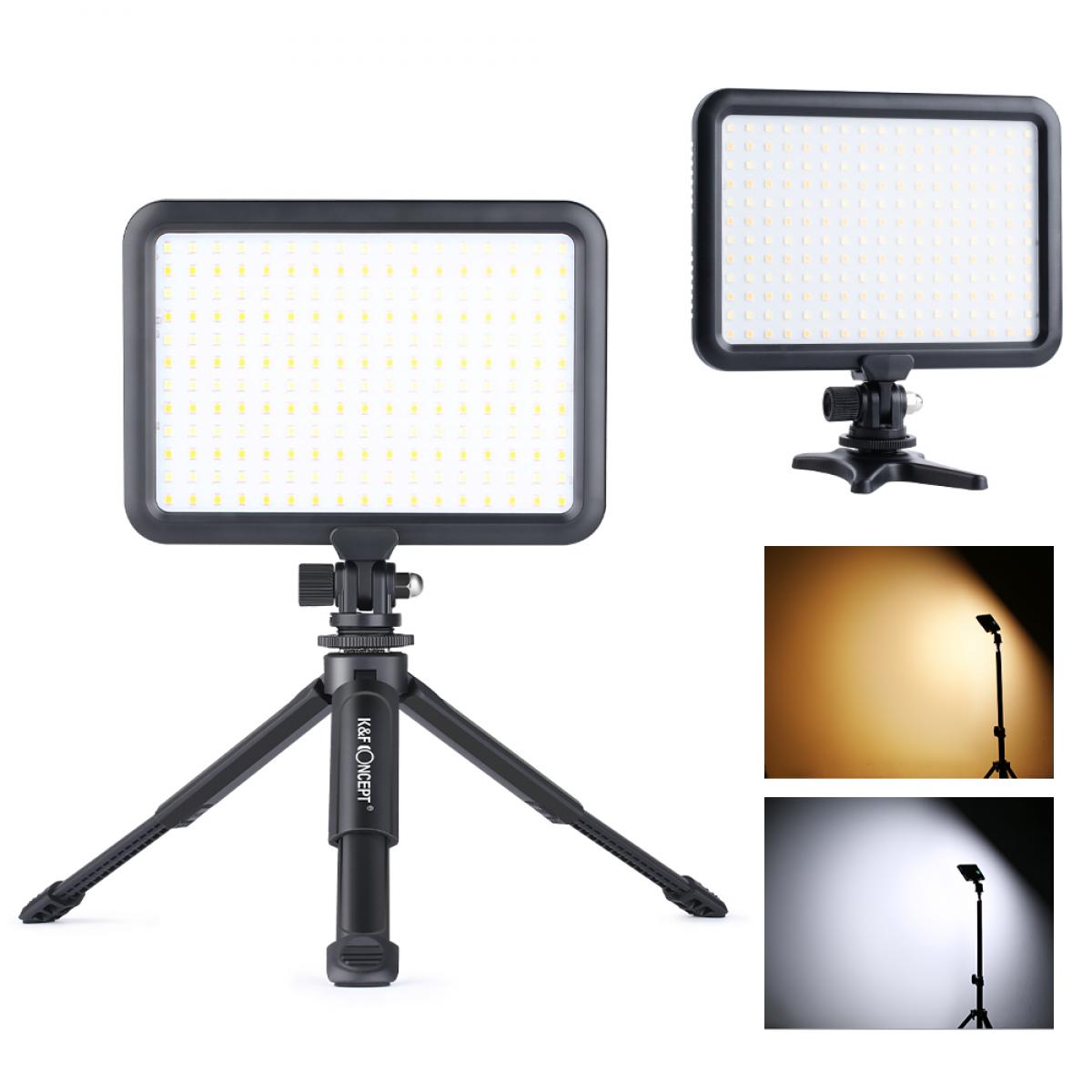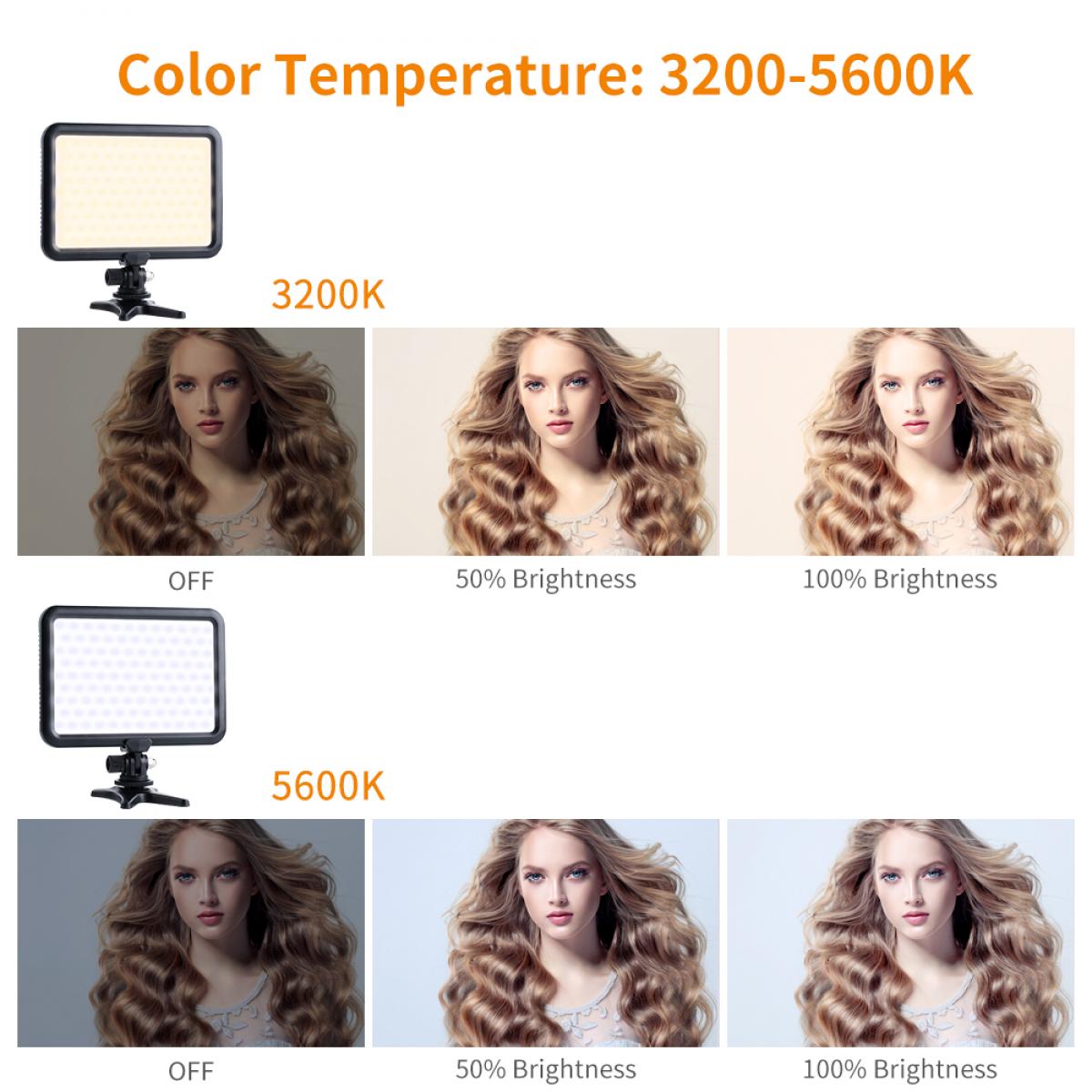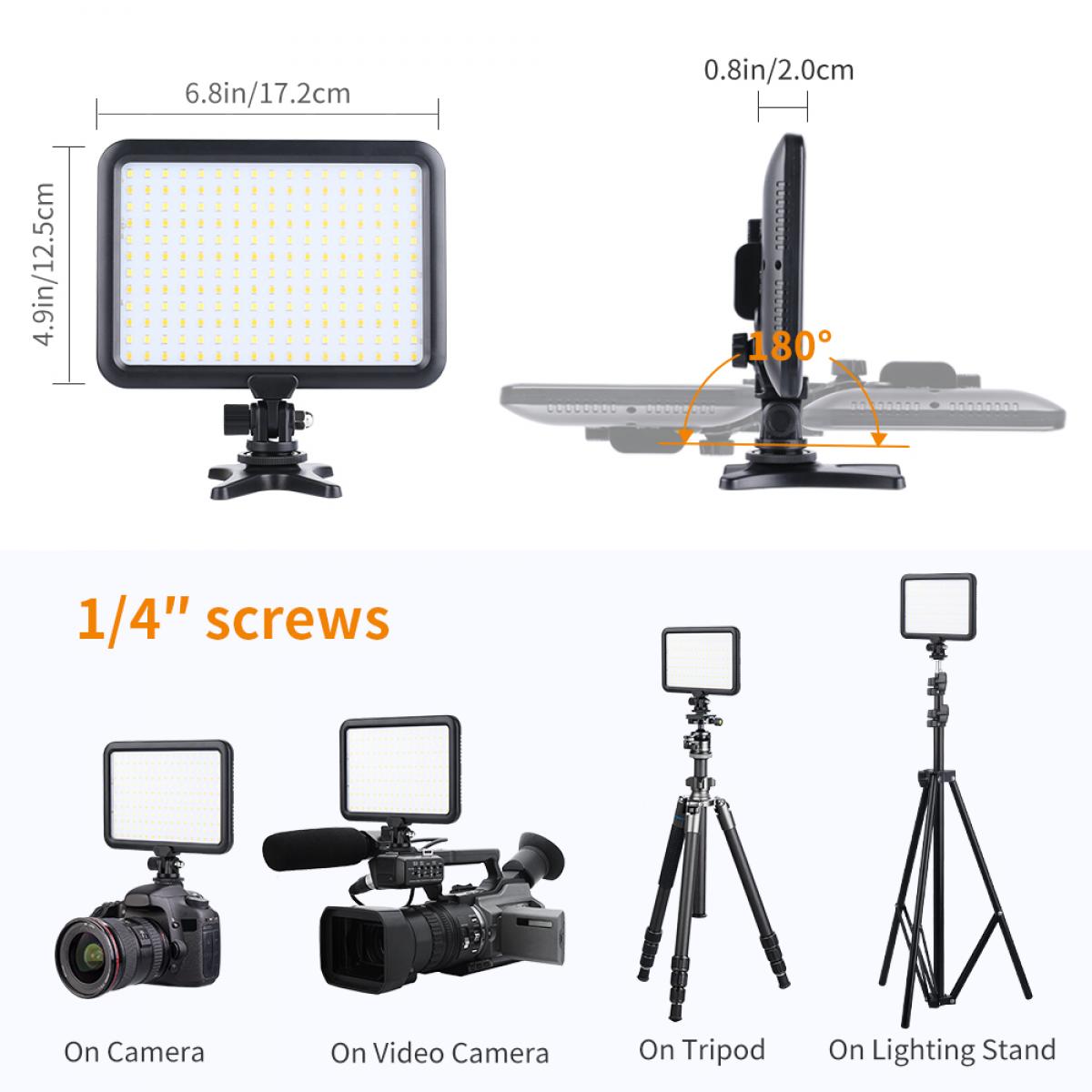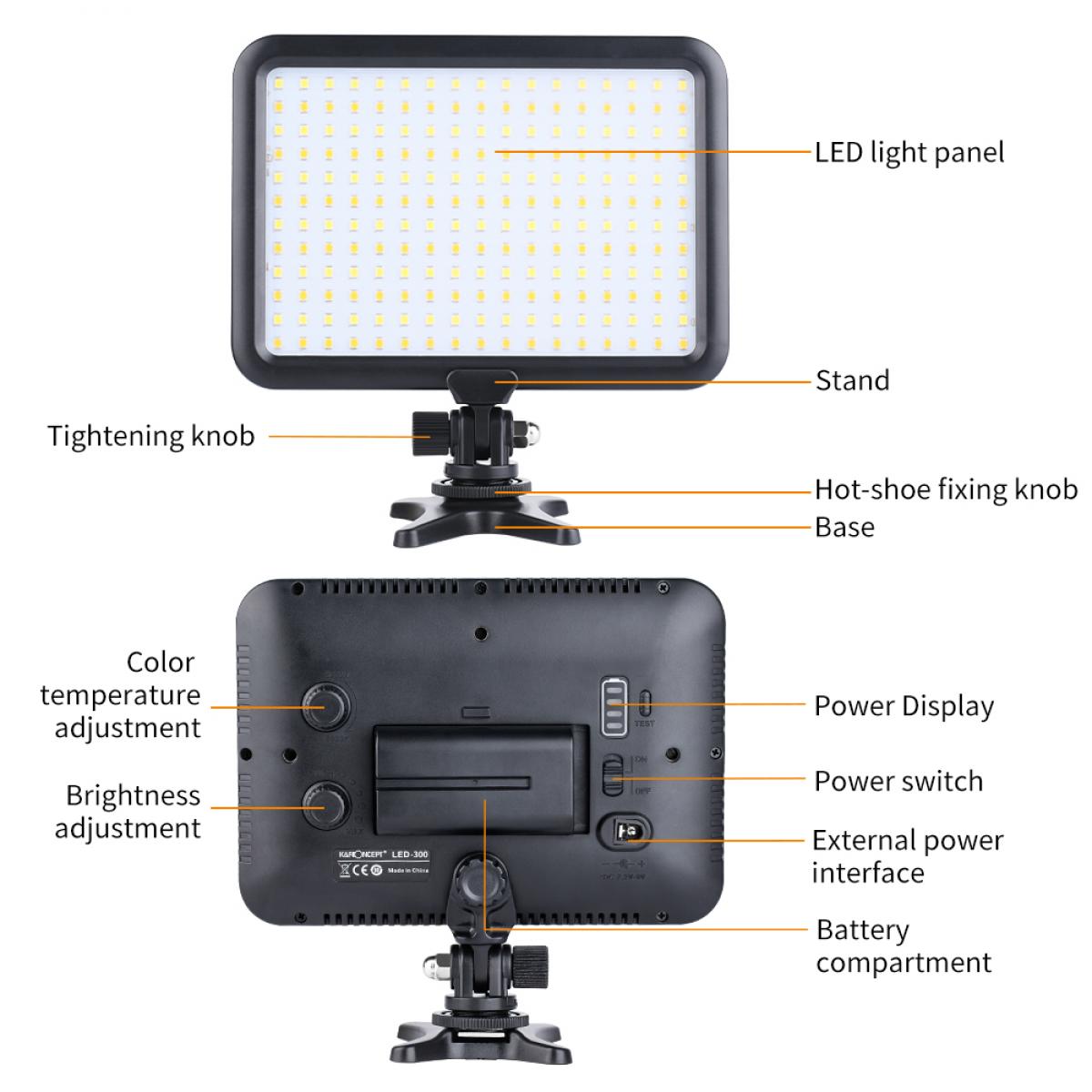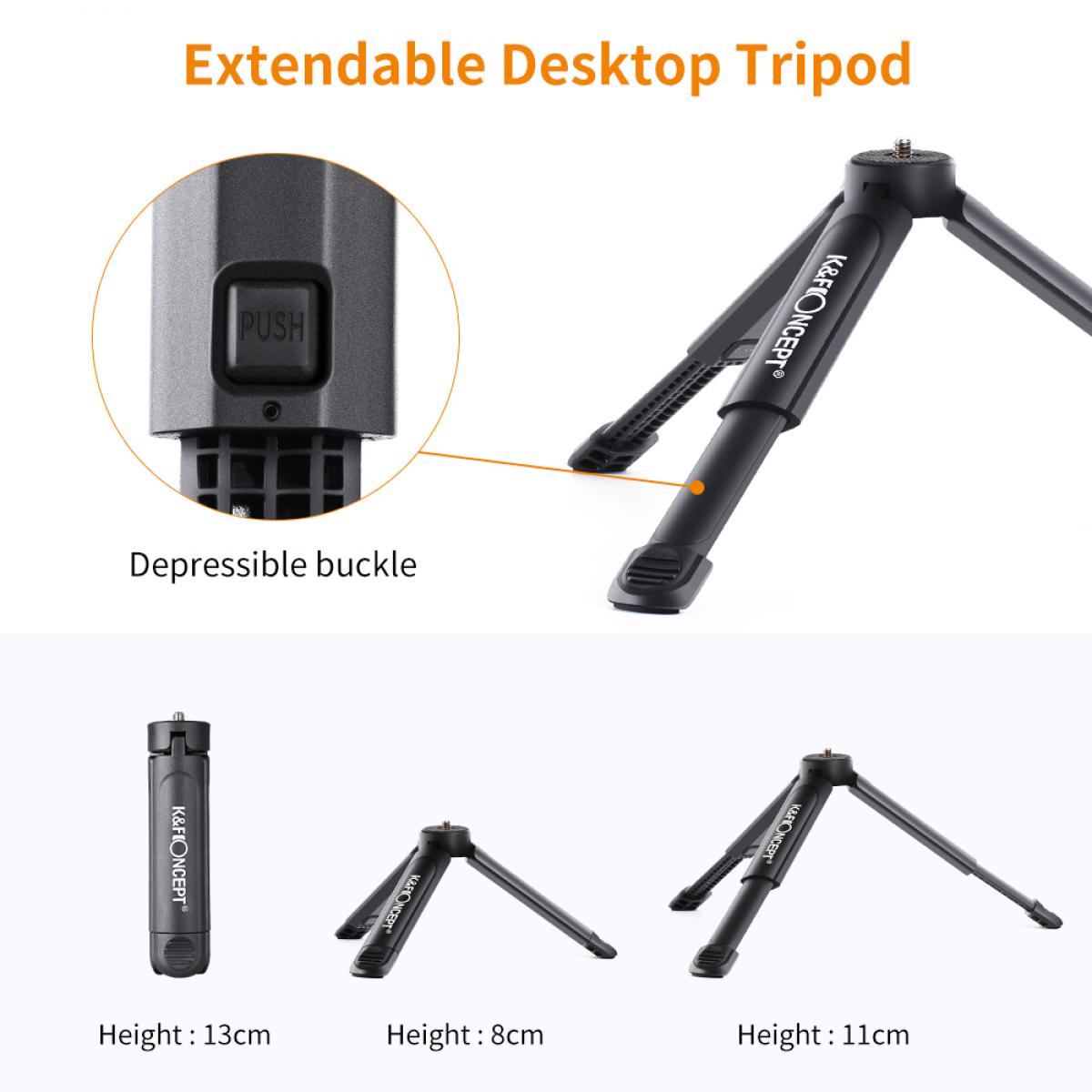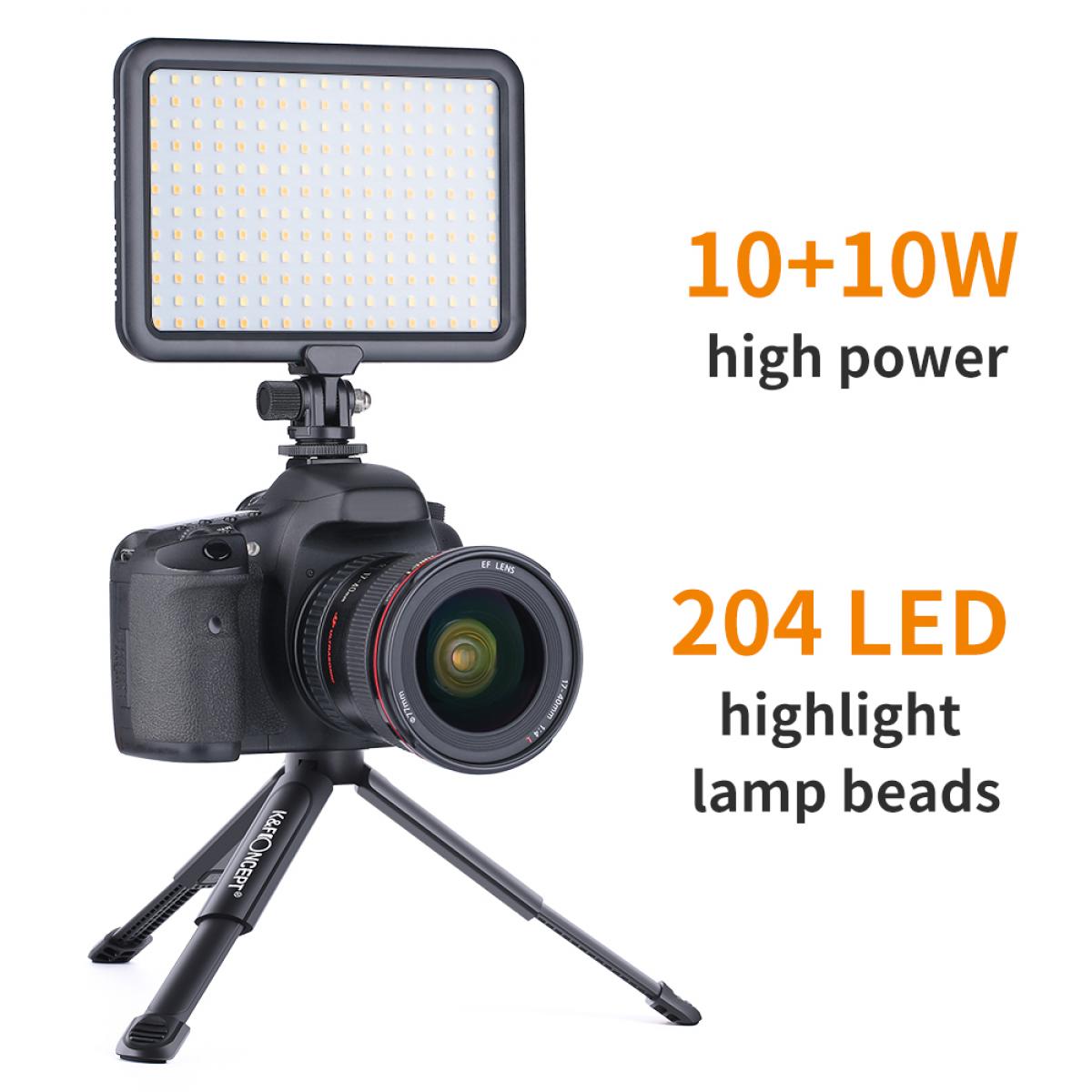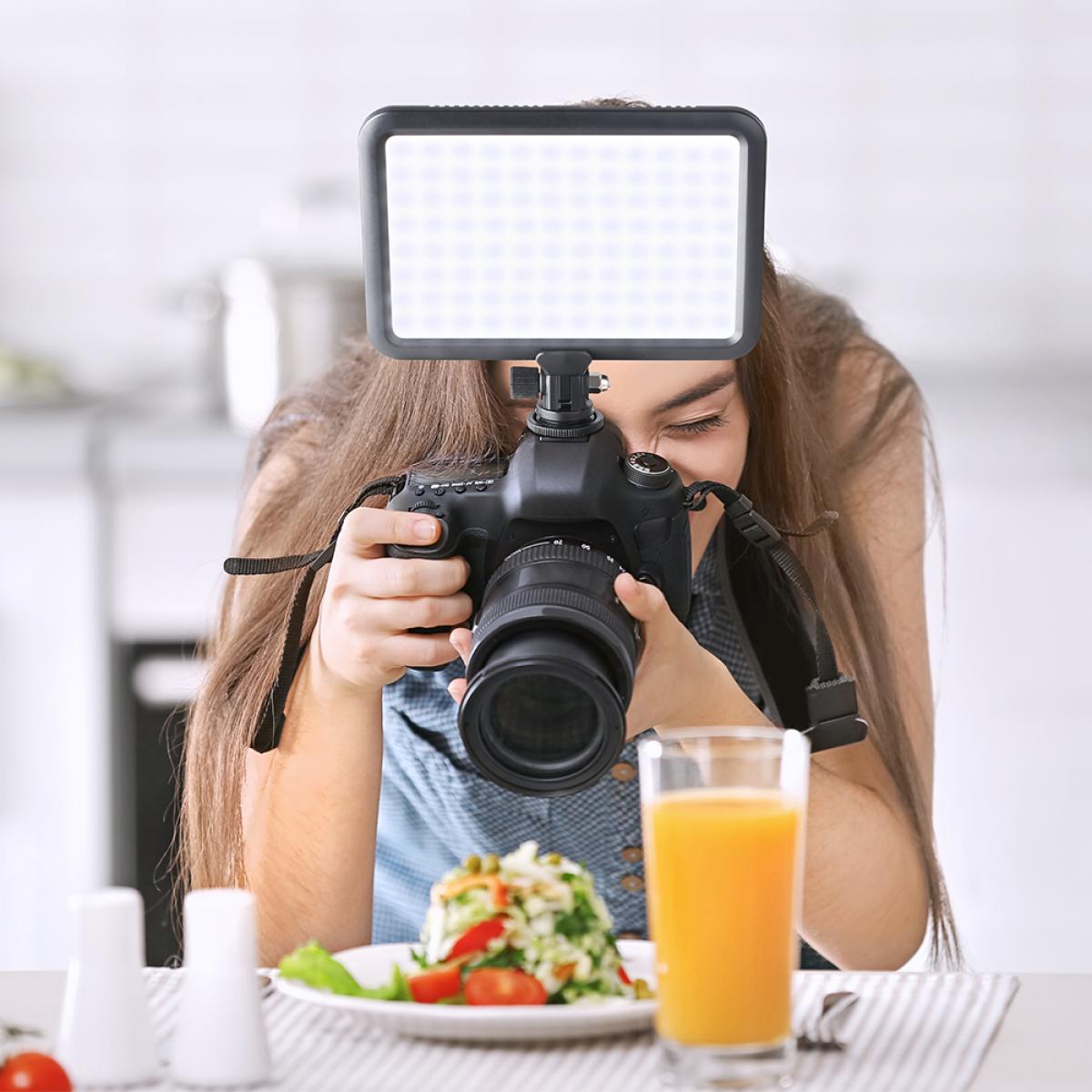 Added extras are a nice touch
I have a few lights like this that I mainly use as background lights for sit down videos, I decided to buy this one in particular because it came with a stand and handle which makes it much more versatile. Most lights like this come with an adjustable hot shoe mount only and cannot stand freely on their own but I love that with this light I can quickly move it around a space to put the light just where I want it. The addition of the handle is great too as it can also be used with other photography and videography equipment that uses 1/4" thread, plus it just looks and feels really nice. Unlike the other similar lights that I own this also comes with a protective sleeve so I can throw it in my camera bag without worrying about other bits and pieces inside scratching it.
20/07/2020
Let there be light! Solid value for the money.
I needed a small compact light with tons of power and this one hit the mark.When I came across this light on Amazon, I was initially somewhat sceptical given its relatively low price point. I decided to purchase it and I am genuinely impressed.· It is small, but super bright. I rarely have it at 99%· There is Warm and Cold temperature modes that can be adjusted, which is really cool.· The battery life is good based on my initial tests.· It is lightweight, well built, and long-lasting battery can be charged anywhere.· It comes with handle which is a very useful addition.I use this light for video production, portraits, and products photography. Also, I use it sometimes to light my background for a little more cinematic feel.I even use it at night to see my surroundings when I am in a dark area.
23/07/2020
Good light scale, easy fit
Perfect product for photoshoot in dark England. The wihe ligh can be strong enough to place behind the umbrella, and the brightess can be set on the same way. It provides white and warm light too and easy to fit on any of my tripods. Basically comes with a table stand one. I'M HAPPY WITH THIS PURCHASE.
01/03/2021
Great to provide additional lighting
getting the colour change is initially challenging. but once you get hold of it it works. This image was used with the Lighting on 30% on cool light.
28/11/2020
Great Value - Really Bright
K&F Concept 104 LED Video Light.I'm really happy so far with this handy and portable video / photography light. The design is nice and compact and it's easy to operate. My number one requirement in the light was a rechargeable battery. I knew when I was using the light, my sessions would be fairly quick. Therefor I didn't want the aggro of connecting mains power cables each time.You are supplied with all accessories needed to get you up and running. All the components seem to be of a reasonable standard for the purchase price.I do have two slight niggles regarding the accessories. Firstly the user guide isn't written particularly well. I certainly wouldn't win any awards from the Plain English Campaign. Secondly an issue that really grinds my gears. When you are charging the battery, the indicator light never changes colour or goes out. This obviously means you are guessing if the battery is fully charged.Overall I'm certainly happy with the performance, brightness etc. I will endeavour to keep the review updated with any future thoughts.Thank you for taking the time to read my review, and checking out my pictures. I hope you have found the review of some use. If so I would appreciate you clicking on the "helpful" button.[3 images attached]
24/09/2020
Very bright and great photo lighting
This is my second LED video light with Handel Stand. This LED light is Dimmable between 2800K and 6000K and Rechargeable. This light made of high-quality material and extremely easy to setup or dismantle. Especially useful for making for interviews, live broadcasts, videos and photo shooting and it is working with DSLR Cameras and Camcorders. Video light is a good helper for interviews, live broadcasts, videos and photosThe result is great and looks like professional photo lighting equipment. Particularly when you have situation with uneven light or poor light condition. Its dual colour temperature adjustment mode works well to suit the lighting condition. High quality lamp beads offering the great and even lights on objects. There is a digital display shows the colour temperature and power of brightness in the back of the LED panel. Lighting direction is 180 ° adjustable which allows photographers to adjust the angle of the photo as needed to find the most suitable light source.Practically well suitable for a different type of photographic equipment, cameras, video recorders, tripods, light holders, handles and free standing on table etc…The given handle is so useful. You have full freedom of use LED video light more flexibly, take pictures and have enough light. Can be put on any standard hot shoe of most DSLR or digital video cameras, tripods and light stands equipped with a hot shoe mount or 1/4-inch thread.With an LCD screen that shows brightness, colour temperature and battery status. You better control the parameters necessary for good exposure.It comes with LED video light, handle, Rechargeable battery, 1 no charger, hot shoe, fixed chassis and storage bag.Overall better helper for photo & Video lighting. Great productBattery charge is great.
29/04/2020
Bright and controllable
Great product, would recommend!Great for macro
03/08/2021
I liked this handheld or can be mounted lighting kit. I do wedding photo and video on the side and this is the perfect lighting for my gigs. 1st thing I liked are the accessories included, comes with handle with standard camera size screw, hotshoe mount, battery charger and and cotton case for the LED light. digital screen in the back can adjust the color temperature and the brightness. also battery indicator which is nice. loved it for my creative shots
21/06/2021
The overall dimensions of the light are quite compact given the amount of light it can output, and has been working great with my amateur photography. The digital display is easy to read with adjustable color temperature from 2800K to 6000K as well as brightness control on the rear control panel of the light. Brightness and color accuracy look on par with my other lights, and overall the diffused light looks great. The threaded mount is standard and fit well on my DSLR without any hassle and does not feel too bulky. The included handle feels pretty good quality as well, although the stand is the weak point being slightly too small for stability. A hot swappable battery would be useful as well an additional accessory, otherwise it is a great versatile light.
21/06/2021
My wife does YouTube video and this was needed as one of her equipment. This has powerful brightness and does work perfectly. Good thing is that I can change brightness and also color to yellow. It has pretty good battery life you don't have to worry about. Holding grip is very comfortable and feeling good. I really recommend people those need brigjt led light for pictures and videos!
17/06/2021
These images belong to K&F Concept end users.
A
Yes they do but the instructions re not very clear. What I do is switch on and get the light. then use and keep holding the +/- button to you get the desired intensity. then i use the colour button. Like I said you have to play with the buttons.
A
Looking at the back 4 buttons. The button on the far right - press and hold power comes on. All digits come on. Two right hand digits show up to 99. These are the brightness, the two left digit are the temperature of the light. If you press the two buttons on the left, then the intensity goes up and down. Tap the second button from the right, press and the right two number flash. Use the two buttons on the left to change the value up and down. Colour temperature changes from 28 -60. Low value is warmer (more cream) , higher value is colder (more blue). That's all there is to it.