Overhead Camera Tripod 91"/2.3m DSLR Flexible Aluminium Travel Tripod 22lbs/10kg Load with Rotatable Multi-Angle Center Column, K234A6+BH-28L (old model S210)
£89.99
£139.99
35% OFF
Inclusive of VAT
To

United Kingdom and Ireland

Expedited Free Shipping

3-5

business days
Brand:

K&F Concept

Free Shipping. 30 Day No Reason Return. K&F Concept tripod features stable & construction, wide height ranges, compact&portable design.

KF09.087V2

SKU:

KF09.087V2

89.99

https://www.kentfaith.co.uk/KF09.087V2_78"-dslr-camera-tripods-22lbs-load-capacity-with-magnesium-alloy-rotatable-multi-angle-center-column
Features
* 【K&F Concept Brand New Design & Patented】Center column horizontal: The 90-degree central pillar system can not only extend vertically but also move horizontally, which provides you with amazing possibilities during shooting, especially for products and macro photography.
* 【22lbs Load Capacity & Strong Stability】 K&F Concept camera tripod has a large capacity of up to 22lbs, which is enabled by its large 23mm leg tube, provide security and stability support for your DSLR Canon Nikon Sony cameras, etc.
* 【Multi-Angle Shooting】 Center Column of the camera tripod can be inverted for low-angle shooting; The damping system of the ball head would set your camera at different angles easily(vertical shots or up-side shots) or and get the best shooting view, for panoramic shooting and macro photography.
* 【Wide Height Ranges】 The camera tripod can be adjusted from 19.7" to 91" in a few seconds. For detachable monopod, it can extend to 84.5", which is very stable and flexible, for various photographic conditions.
* 【Quick Foot Quick Locking System】With a quick flip locking system, foot legs can be loosened or tightened by one hand. The screw buckle is wrapped in soft rubber to provide a comfortable feel and an anti-slip effect.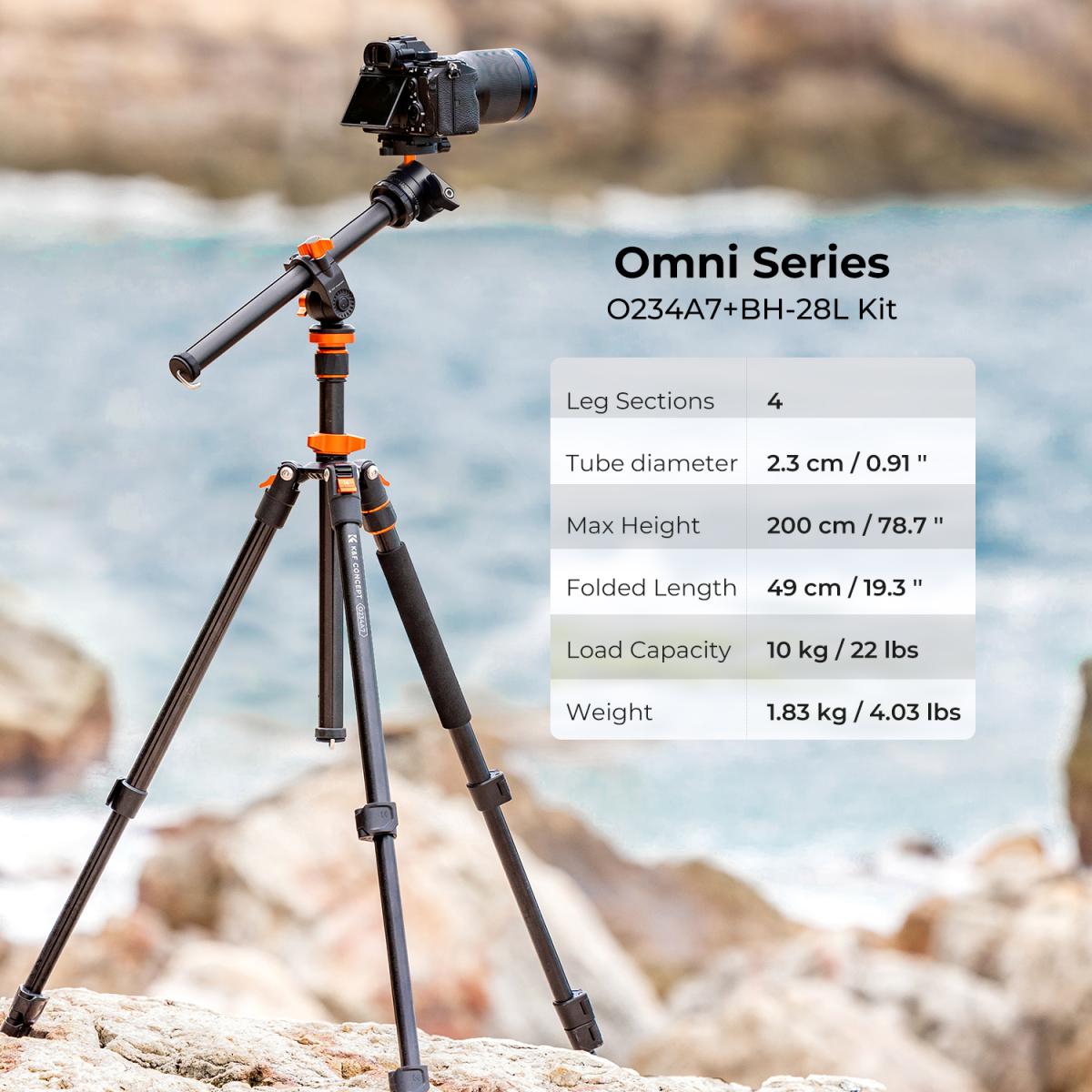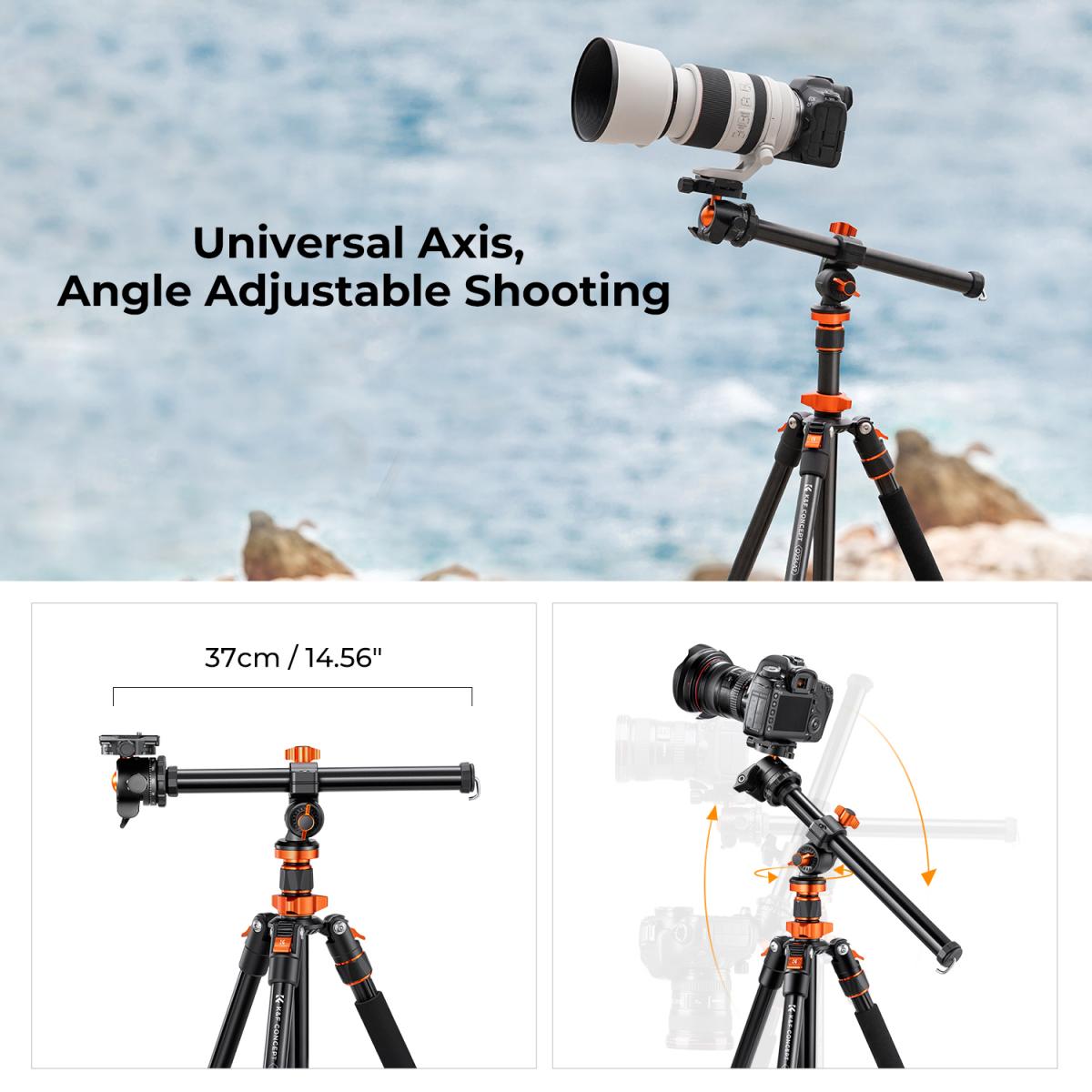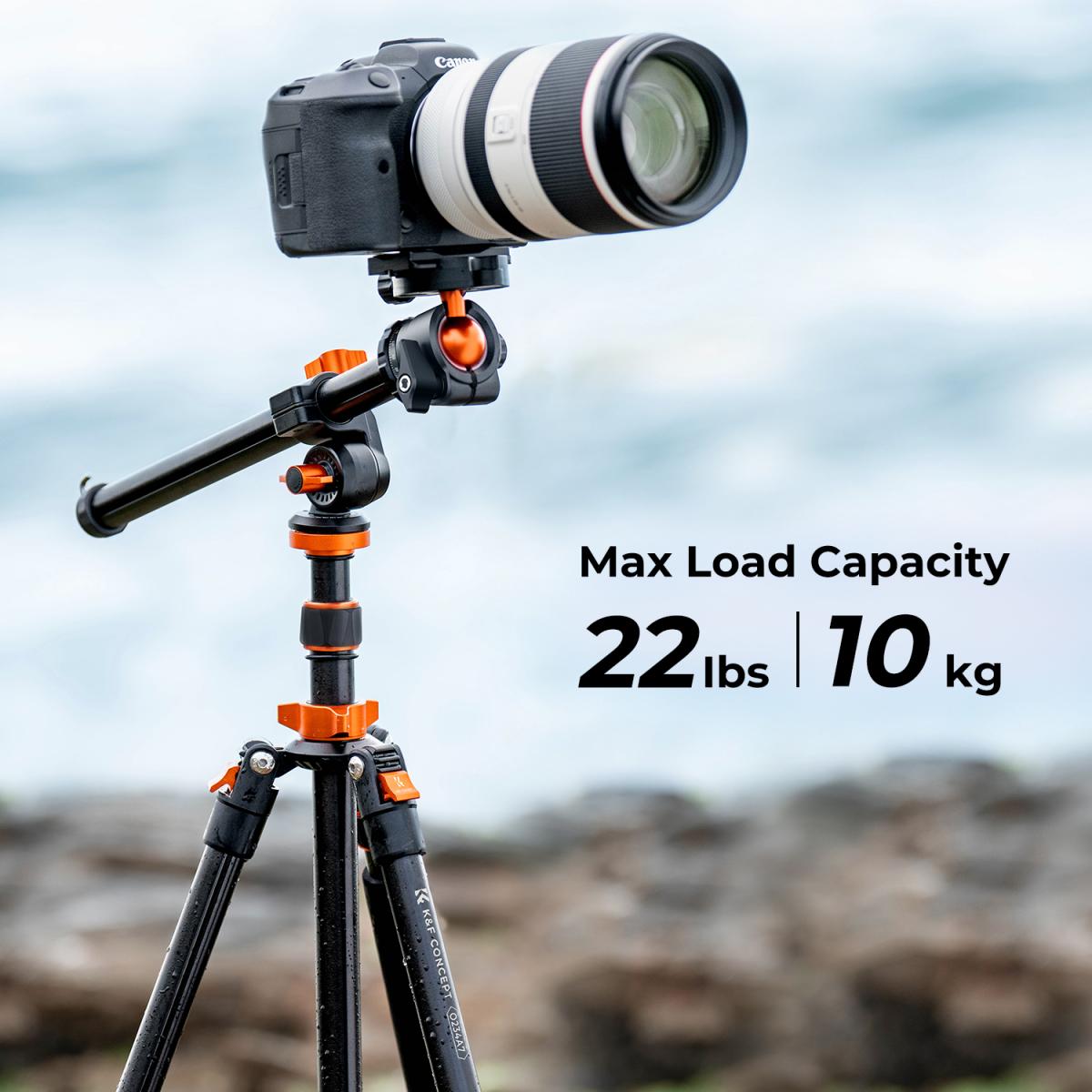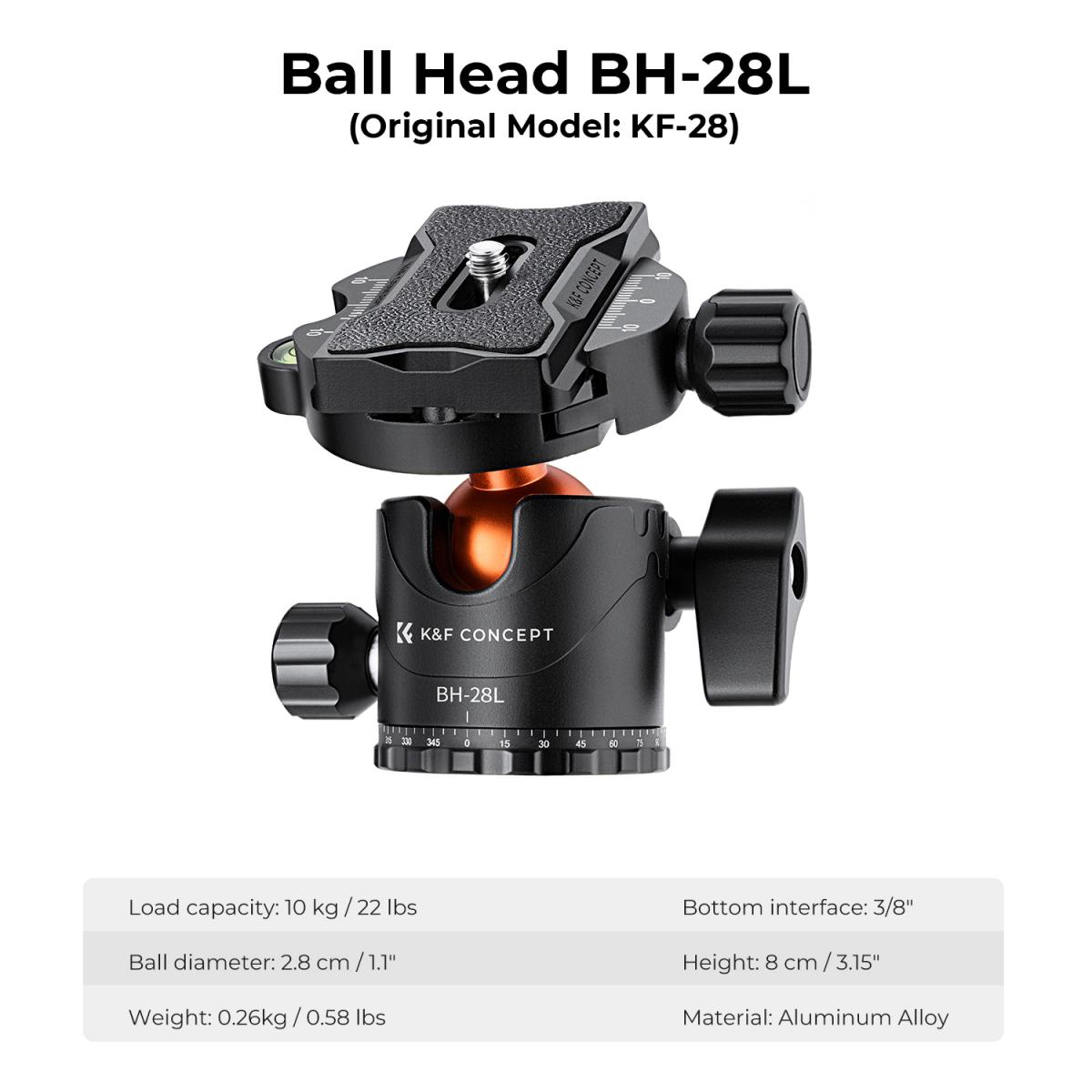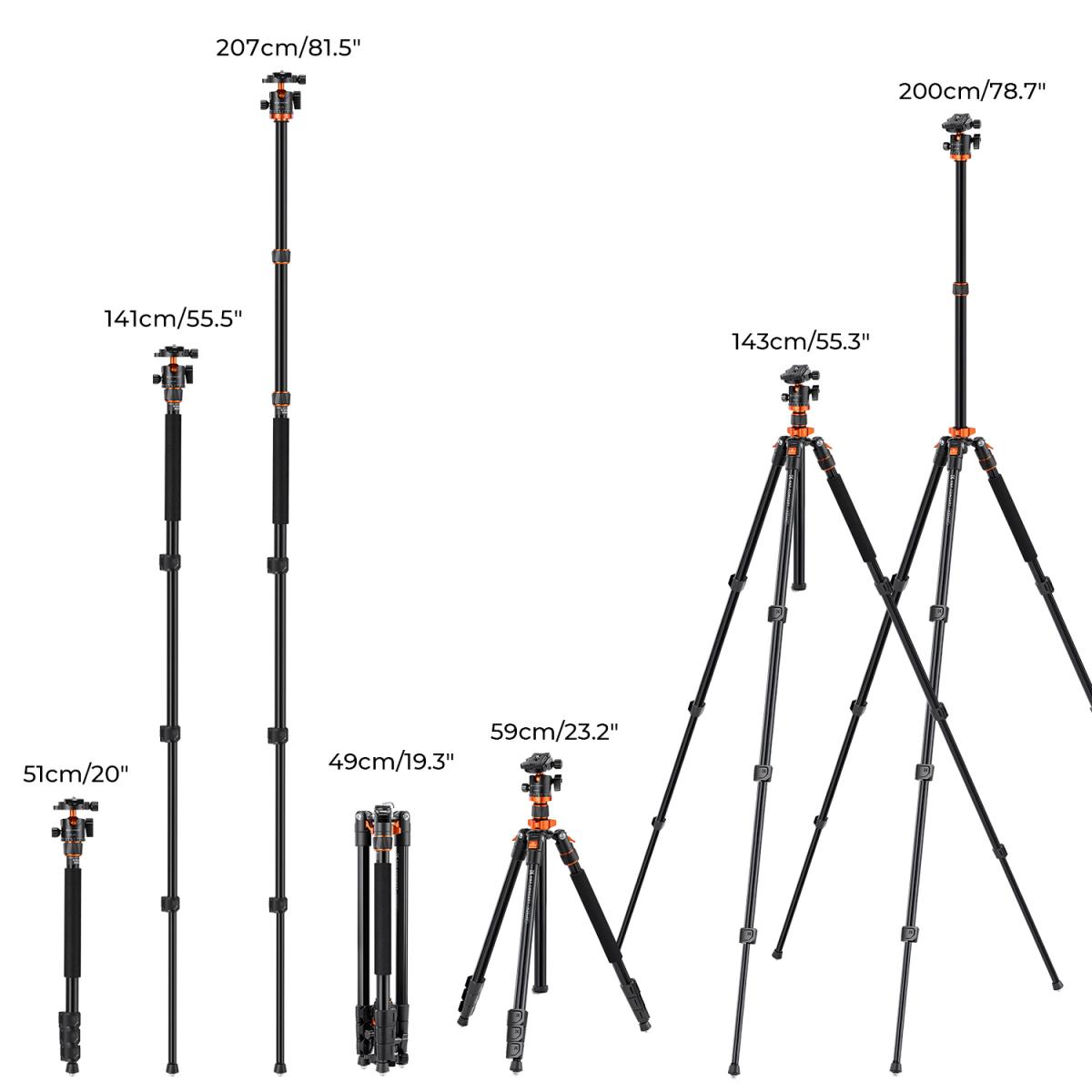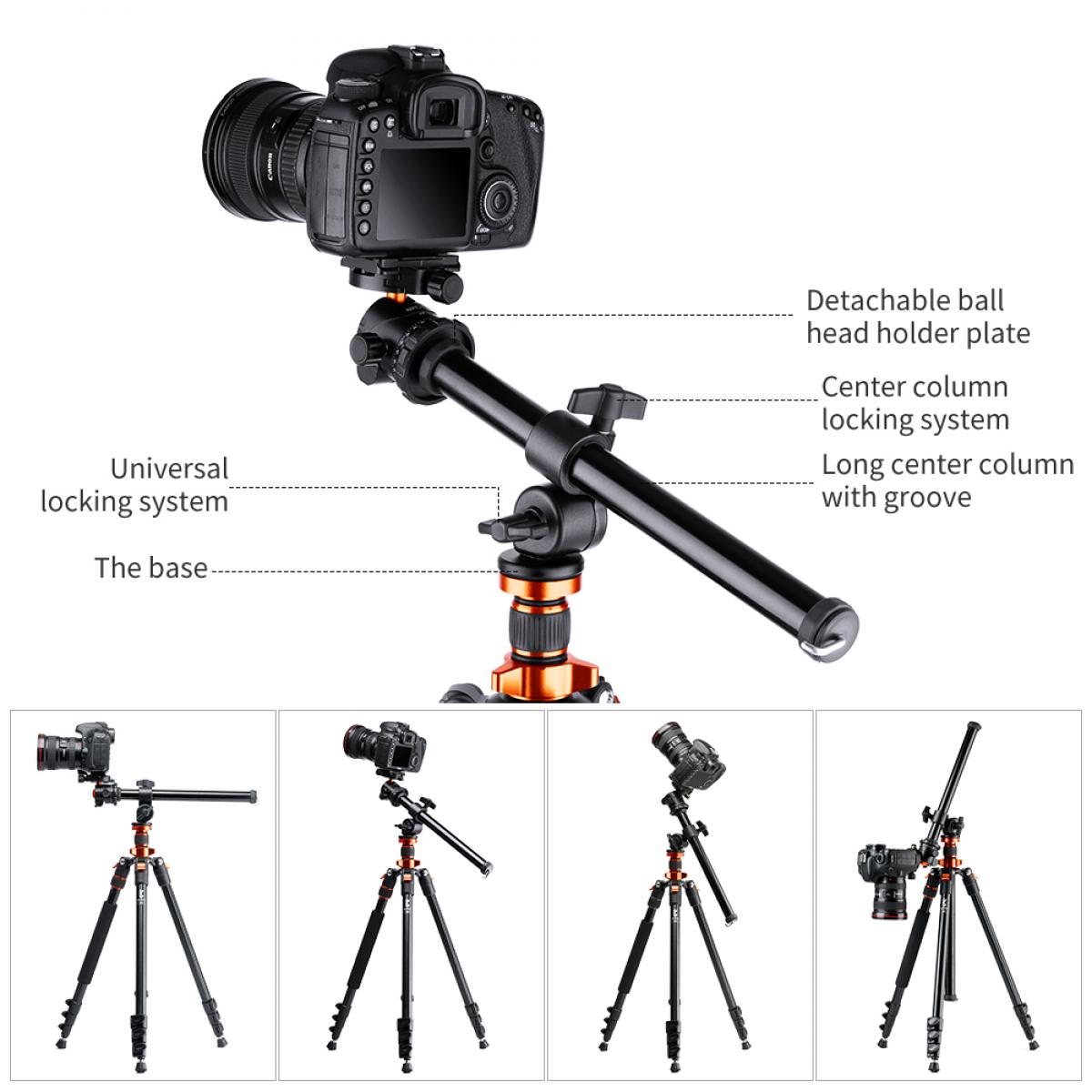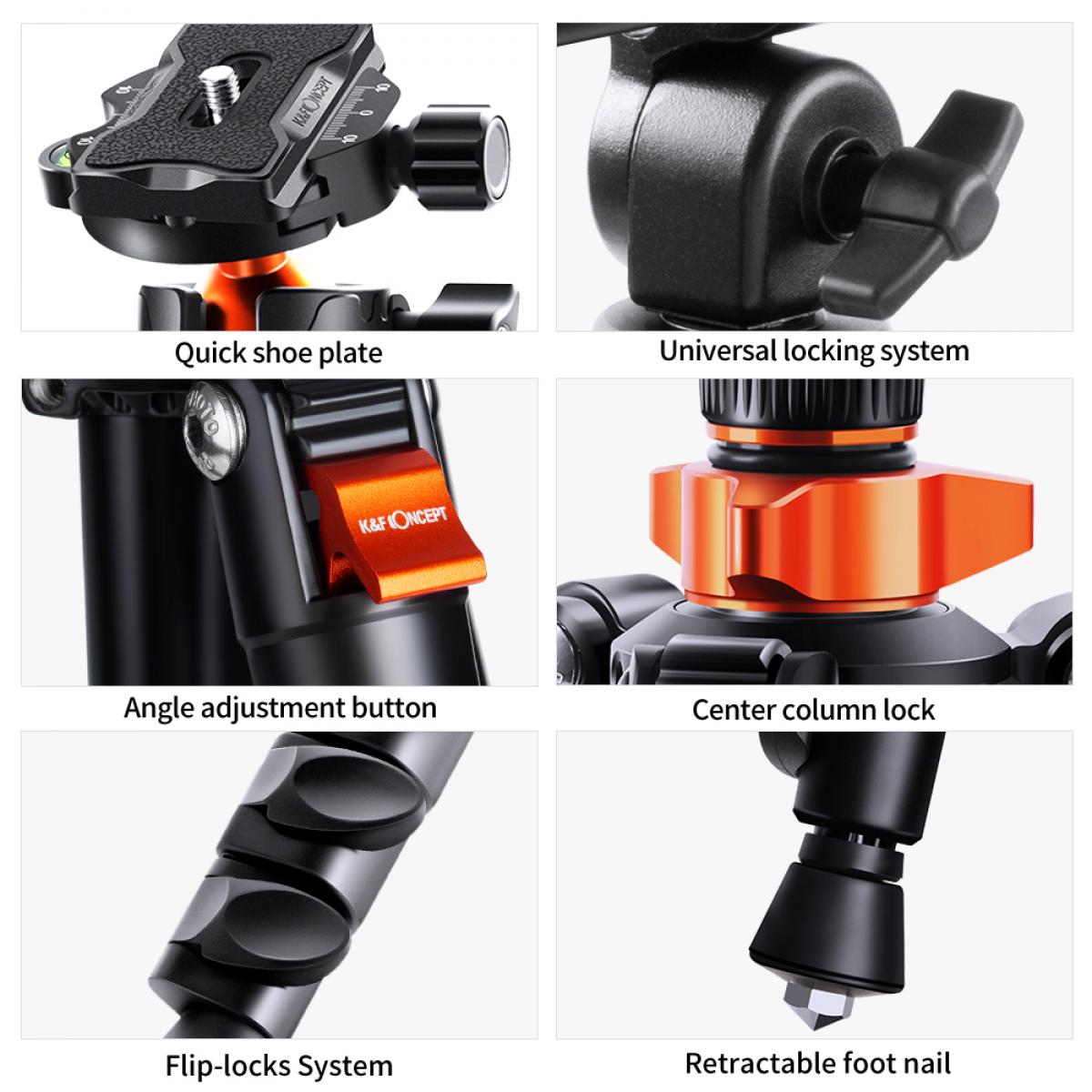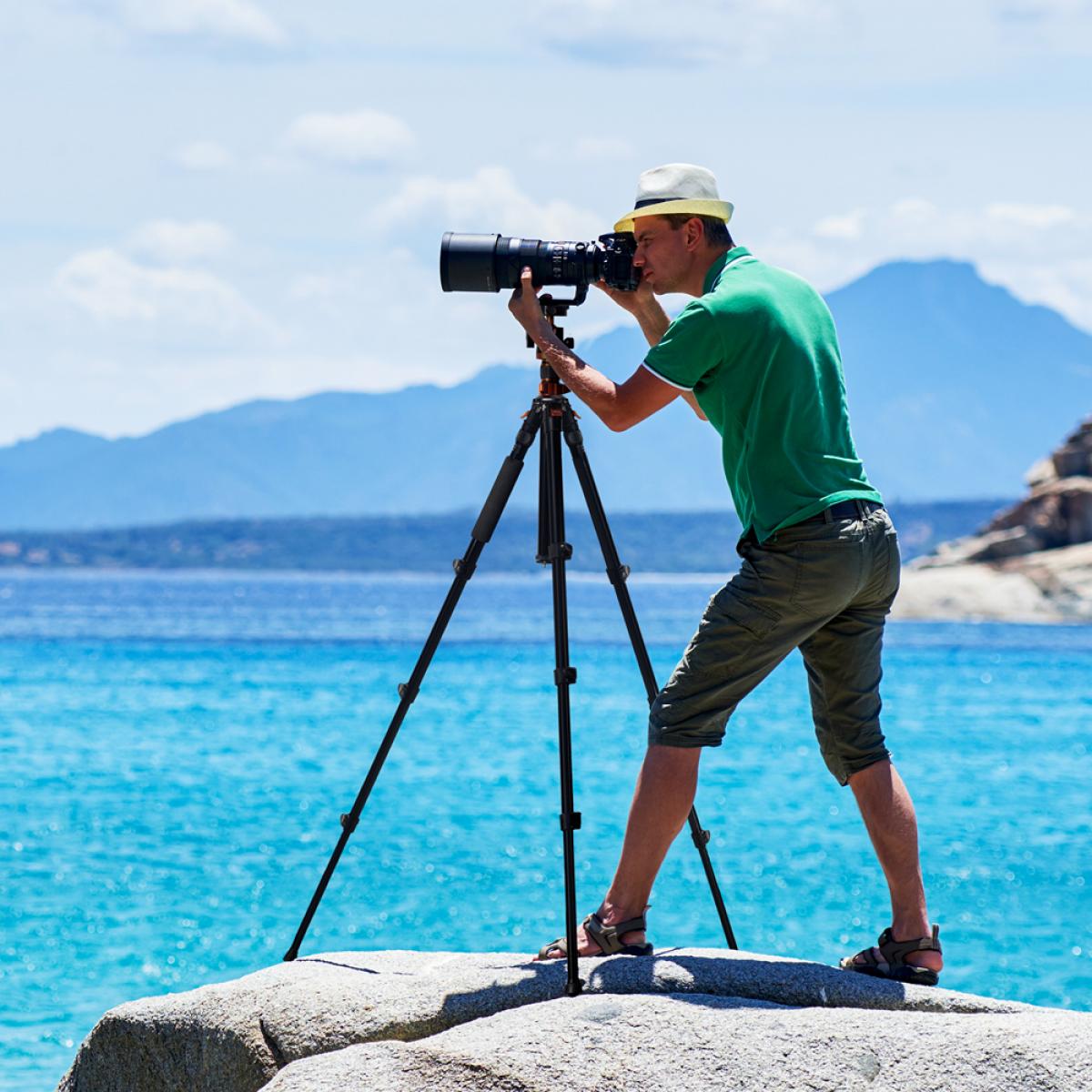 Rating

16 reviews.

6 reviews.

12 reviews.

14 reviews.

61 reviews.

29 reviews.
Price

£139.99

£89.99

£199.79

£151.99

£102.99

£88.99

£148.99

£91.19

£146.99

£95.12

£168.71

£103.55

Model
KF09.087V2
KF09.098
KF09.084V1
KF09.096v1
KF09.086
KF09.093v1

Load Capacity

10kg/22lbs
15kg/33.07lbs
10kg/22.05lbs
10kg/22.05lbs
10kg/22.05lbs
10kg/22.05lbs

Maximum Working Height

2310mm/91"
1750mm/68.90"
1580mm/62.20"
1920mm/75.59"
2385mm/93.90"
1720mm/67.72"

Minimum Working Height

590mm/23.2"
540mm/21.26"
530mm
615mm/24.21"
690mm/27.17"
530mm/20.87"

Folded Length

500mm/19.7"
585mm/23.03"
410mm/16.14"
500mm/19.69"
570mm/22.44"
420mm/16.54"

Weight

1440g/3.17lbs
1395g/3.08lbs
1547g/3.41lbs
1845g/4.07lbs
2000g/4.41lbs
1325g/2.92lbs

Materials

Magnalium Alloy
Carbon Fiber
Magnesium aluminum alloy
Magnalium Alloy
Magnesium aluminum alloy
Carbon Fiber

Ball Head

Ball Head
Ball Head
Ball Head
Ball Head
Ball Head
Ball Head

Color

Orange/Black
Orange, Black
Orange/Black
Orange/Black
Orange/Black
Orange/Black

Leg Lock Type

Flip Lock
Twist Lock
Flip Lock
Spiral Type Lock
Twist Lock
Spiral Type Lock

Leg Sections

4
4
4
4
4
5

Leg Diameter

23mm/0.91"
16-25mm/0.63-0.98"
16-25mm/0.63-0.98"
16-25mm/0.63-0.98"
16-25mm/0.63-0.98"
13-25mm/0.51-0.98"

Center Column Features

Tranverse Center Column, Center Column Inversion
Center Column Inversion
Center Column Inversion
Transverse Center Column, Center Column Inversion
Center Column Inversion

Center Column Sections

2
1
2
Tranverse Center Column
2
2
Quality tripod
This tripod is so easy to use, and feels very professional.
21/12/2021
Sturdy tripod with many options
Only received this today so haven't been in the field with it yet but gave it a thorough examination indoors with my heavy pro type equipment.
Appearance is very good and quality seems high at this price point. The ball head has a very fluid smooth movement and panning is very nicely dampened. When all tightened up in position it seems very sturdy with no hint of a wobble.
Many adjustments to suit all shooting situations and light enough to carry up to my local mountains for some landscape shots ! A fraction of the price of some branded models but not far behind in quality at all.
So far so good !
10/12/2021
Best deal at the price
Short of buying into ultra professional equipment, which is a little like overkill, this unit does everything tripod related, and if you buy the complete version, accessories include a small spirit level, so no more wonky horizons or unwanted converging verticals. Might as well get the best shots you can to start with rather than missing around with un-square images in photo software after. Mostly aluminium except for some plastic release catches and rubber feet, so won't get loose and rickety too quickly, like those cheap generic badged tripods. Also comes in a cute carry bag, with adjustable straps. Couldn't fault any of it.
24/11/2021
The tripod has a very good quality of materials. The legs open very smoothly and have no play. In addition, the tripod head holds a heavy camera perfectly. The closed size is very moderate for the height when open. It has several positioning modes and you can remove the central leg to use it as a monopod. I have another one from a well-known brand, smaller and I needed something bigger, and the truth is that this tripod has nothing to envy it and with an exceptional quality-price ratio. A good buy.


09/09/2021
These images belong to K&F Concept end users.
A
For how to install the center column, please refer to this video https://youtu.be/3BvJKWNElRg.
A
To hold telephoto lens, it is recommended to use a tripod mount ring additionally for better balance. Meanwhile, it is better to hang some heavy thing to the hook to lower the center of gravity on this tripod to make it more sturdy and less prone to vibrations.
A
Please refer to this video https://youtu.be/QTqaGuu7kVM.
Tripod General
Load Capacity
10kg/22lbs
Maximum Working Height
2310mm/91"
Max Height without Center Column
1400mm/55.1"
Minimum Working Height
590mm/23.2"
Folded Length
500mm/19.7"
Weight
1440g/3.17lbs
Materials
Magnalium Alloy
Ball Head
Ball Head
Color
Orange/Black
Bubble Level
Tripod Legs
Leg Lock Type
Flip Lock
Leg Positions
Independent Leg Spread
Leg Sections
4
Leg Diameter
23mm/0.91"
Feet Features
Can be reversed 180° and folded
Tripod Center Column
Center Column Features
Tranverse Center Column, Center Column Inversion
Center Column Sections
2