K&F Concept Lens Mount Adapter, Canon EOS EF Mount Lens to Nikon 1-Series Camera, fits Nikon V1, J1 Mirrorless Cameras, fits EOS EF, and EF-S Lenses
To

United Kingdom

Expedited Shipping

3-5

business days
Brand:

K&F Concept

Buy K&F Concept k&f concept lens mount adapter, canon eos ef mount lens to nikon 1-series camera, fits nikon v1, j1 mirrorless cameras, fits eos ef, and ef-s lenses online, £20.99 free shipping to UK.

KF06.080

Availability:

In Stock

20.99

https://www.kentfaith.co.uk/KF06.080_canon-ef-lenses-to-nikon-1-mount-camera-adapter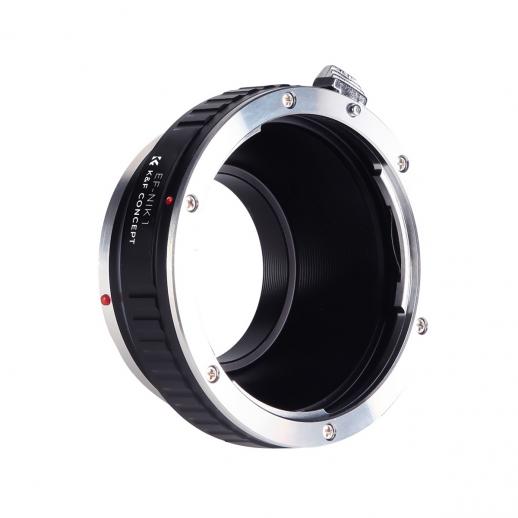 K&F Concept Lens Mount Adapter, Canon EOS EF Mount Lens to Nikon 1-Series Camera, fits Nikon V1, J1 Mirrorless Cameras, fits EOS EF, and EF-S Lenses
Features
• Canon EF/EF-S mount Lens to Nikon 1 Series Camera
• Designed for Nikkor 1 Series Mirror less Cameras, N1 1 V1 V2 V3 S1 S2 J1 J2 J3 J4 AW1 etc Infinity focus function is allowed
• Manual adapter,auto diaphragm/auto-focus is not allowed
• All-metal design; anodized aluminum construction
Frequently Bought Together
K&F Conceptontwerp en produceren een volledige reeks lensadapters voor lenzen van Canon, Nikon, Pentax, Olympus, Leica, Contax Yashica, Minolta, Tamron, T2, C-houder, Exakta, M39, M42, Pentacon enz. Die worden gebruikt op camerabehuizingen van Canon , Nikon, Sony, Fujifilm, Pentax, Micro 4 3, Leica, M42, Cinema C mount etc.

Great product
This adapters fits perfectly on my Nikon J1. I am able to use my Canon EF 75mm-300mm lens.
Great passive adapter!
A LOT better than I was expecting. High quality material and nice firm fit.There are a lot of caveats with an adapter like this:1. NO aperture control at all (lenses will be at the lowest f stop by default)2. The camera MUST be in creative manual mode or it will not take pictures3. You must manual focus, so any electronically driven focus will not work, unless the focus ring is physically coupled with the focus mechanism.4. You have to correct perspective distortion manually5. Metering is fine but you're in full manual, so you must set exposure.
great product
This is great product as I have lots of lenses but for the other camera. I now use this most days and it works really well. Im so glad as now I don't have to duplicate on lenses
Goid quality
Does exactly what it's supposed to. Feels like good quality and well made. Lenses fit well.
Perfect
Connect with my Canon EF lens to Nikon V1 Mirrorless Cameras, no any tolerance
There are no faqs for this product.
These images belong to K&F Concept end users.
| Image | Lens | Mount | Filter Size (mm) |
| --- | --- | --- | --- |
| | ARAX 80mm f/ 2.8 S&T | Canon EF EF-S | 62 |
| | Bell+Howell 14mm f/ 2.8 ED Aspherical IF | Canon EF EF-S | - |
| | Bell+Howell 85mm f/ 1.4 Aspherical IF | Canon EF EF-S | 72 |
| | Bell+Howell 8mm f/ 3.5 Fish-Eye CS | Canon EF EF-S | - |
| | Belomo 17mm f/ 2.8 МС | Canon EF EF-S | - |
| | Beroflex Auto W.W. 35mm f/ 2.8 | Canon EF EF-S | 55 |
| | Bower 14mm f/ 2.8 ED AS IF UMC | Canon EF EF-S | - |
| | Bower 24mm f/ 1.4 | Canon EF EF-S | 77 |
| | Bower 85mm f/ 1.4 Aspherical IF | Canon EF EF-S | 72 |
| | Bower 8mm f/ 3.5 Fish-Eye CS | Canon EF EF-S | - |
| Camera | Mount |
| --- | --- |
| Nikon 1 AW1 | Nikon 1 |
| Nikon 1 J1 | Nikon 1 |
| Nikon 1 J2 | Nikon 1 |
| Nikon 1 J3 | Nikon 1 |
| Nikon 1 J4 | Nikon 1 |
| Nikon 1 J5 | Nikon 1 |
| Nikon 1 S1 | Nikon 1 |
| Nikon 1 S2 | Nikon 1 |
| Nikon 1 V1 | Nikon 1 |
| Nikon 1 V2 | Nikon 1 |