GND16 100mmx150mm Soft 4 f-stops graded neutral density filter
£69.49
£93.92
26% OFF
Inclusive of VAT
&FREE Shipping to United Kingdom,Ireland
K&F Soft GND16 (1.2) filter from top German optics, increased optical clarity and color fidelity. The light from ultraviolet to near infrared can be transmitted evenly.

KF01.1456

SKU:

KF01.1456

69.49

https://www.kentfaith.co.uk/KF01.1456_kf-sj516-gnd16-100-150-2.0mm-soft-4-f-stop-graduated-neutral-density-filter
Features
* K&F Soft GND16 (1.2) filter from top German optics, increased optical clarity and color fidelity. This does not affect the sharpness of the telephoto lens and high-resolution imaging is guaranteed
* K&F's neutral density uses an exclusive incremental coating for research and development. The light from ultraviolet to near infrared can be transmitted evenly
* Nano coating layer technology. Waterproof, anti-scratch, anti-reflective green coating, effective against oil, fingerprints, scratches, protecting the precious lens
* Double-sided optical grinding and polishing to ensure high optical parallelism and smoothing to ensure high image sharpness. Reduce exposure in the selective area. It can effectively balance light ratio and contrast
* It could fit Lee Filter Holder and Cokin Z Series Filter Holder
Shipping
&FREE Shipping to United Kingdom,Ireland
GND16 100*150*2.0mm Soft 4 f-stop
Graduated Neutral Density Filter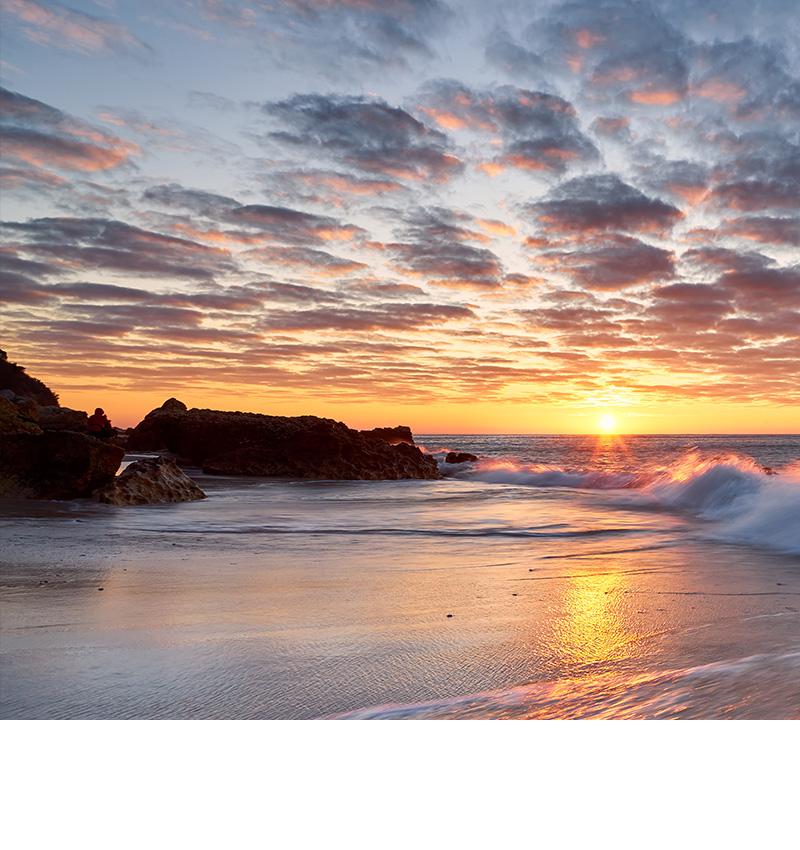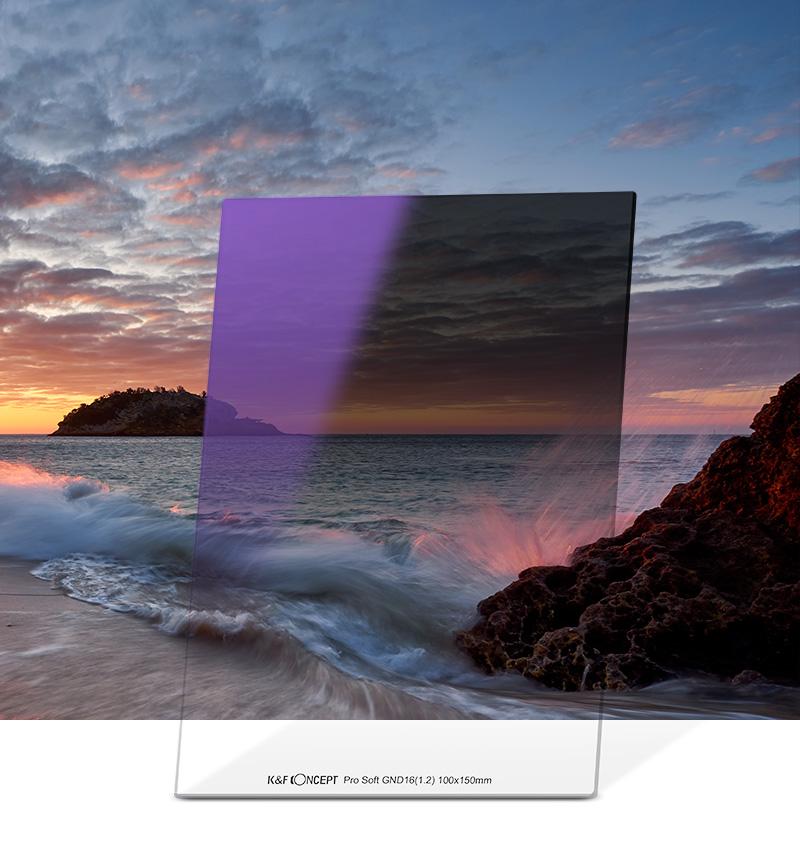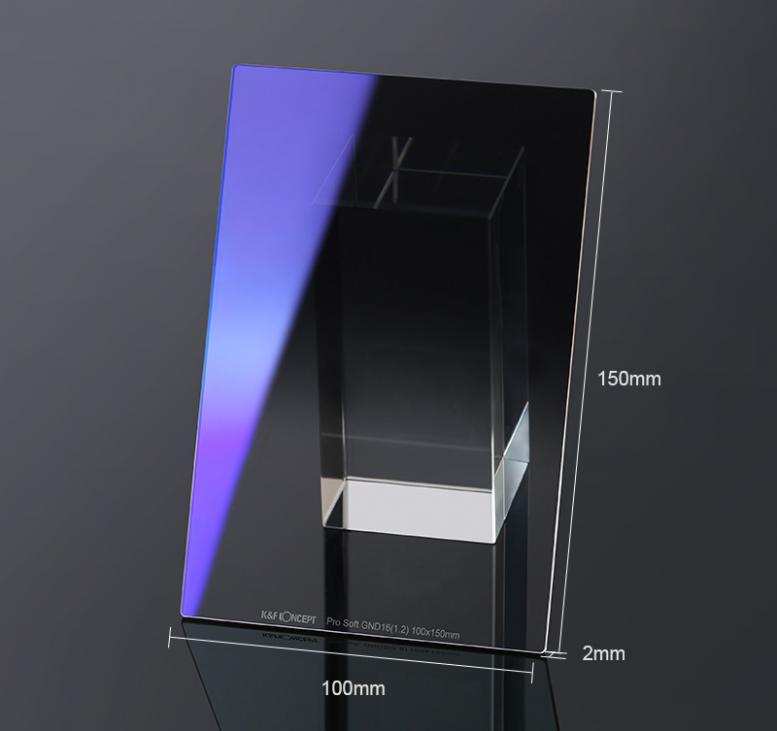 Feature
Soft Graduated Neutral Density GND8 3 f-stop Filter
and is made with premium Germany Optics glass.

Optical glass

Multi-layer coating

No
vignetting

Low reflectivity

Waterproof
and antifouling

High light
transmittance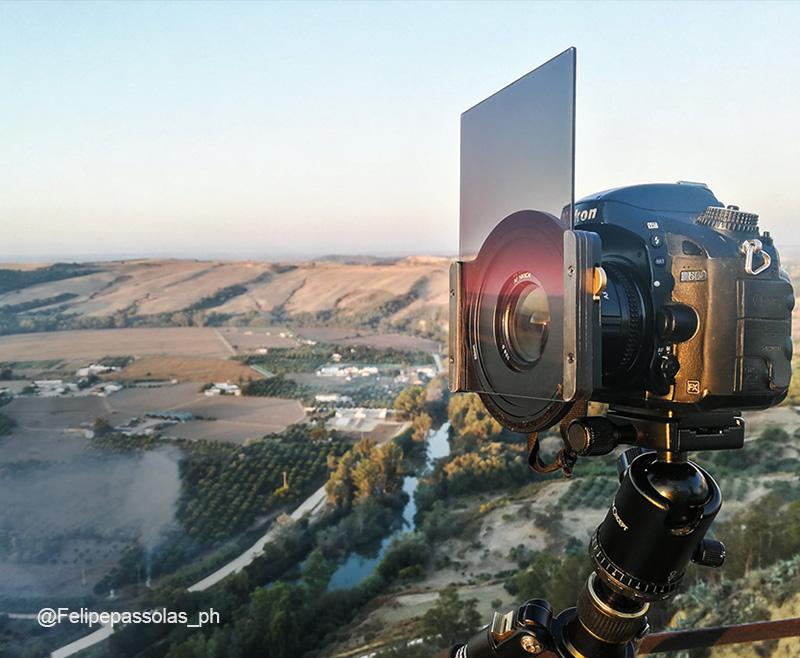 Double-sided Multi-layer Coating
Waterproof / Oil Resistant / Scratch Resistant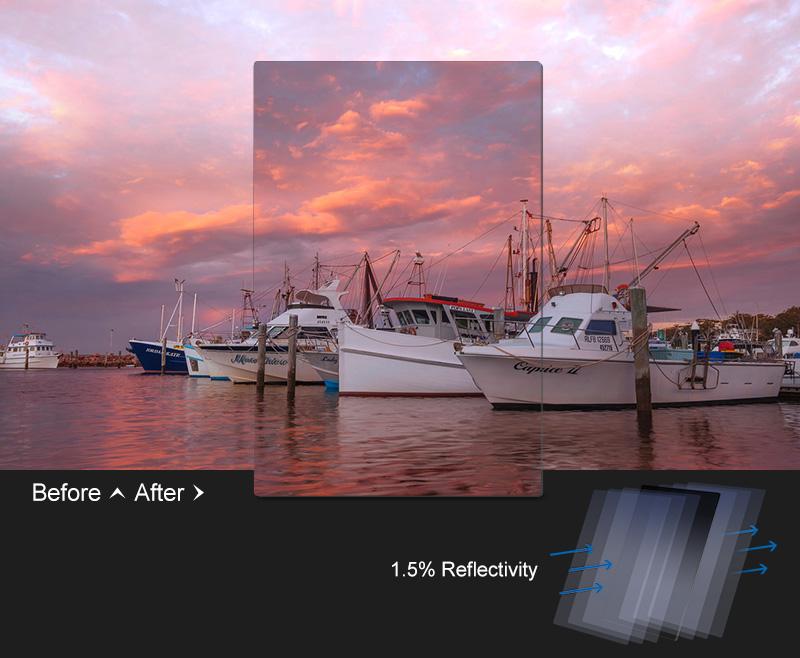 Multi-layer Coating Low Reflectivity
Reduce glare caused by diffuse reflection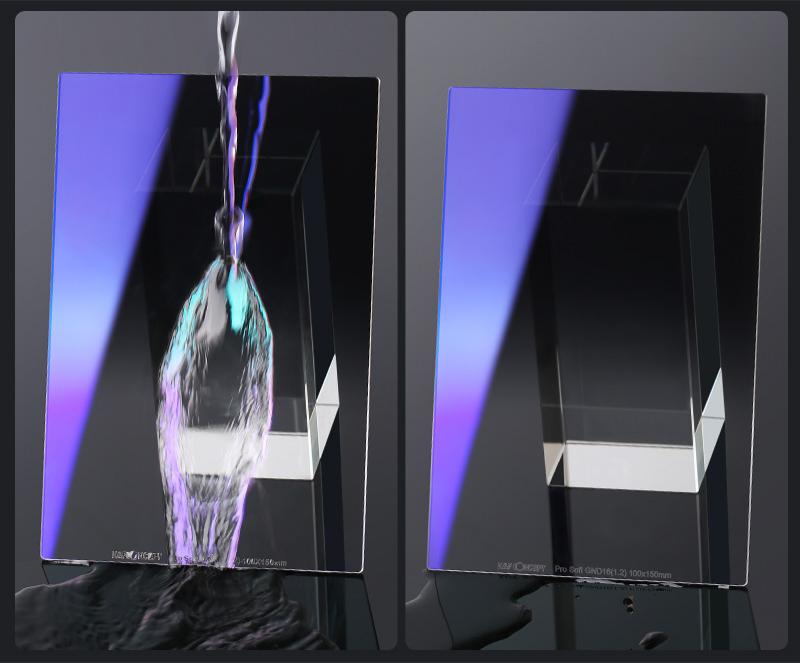 Double-sided Multi-layer Coating
Waterproof / Oil Resistant / Scratch Resistant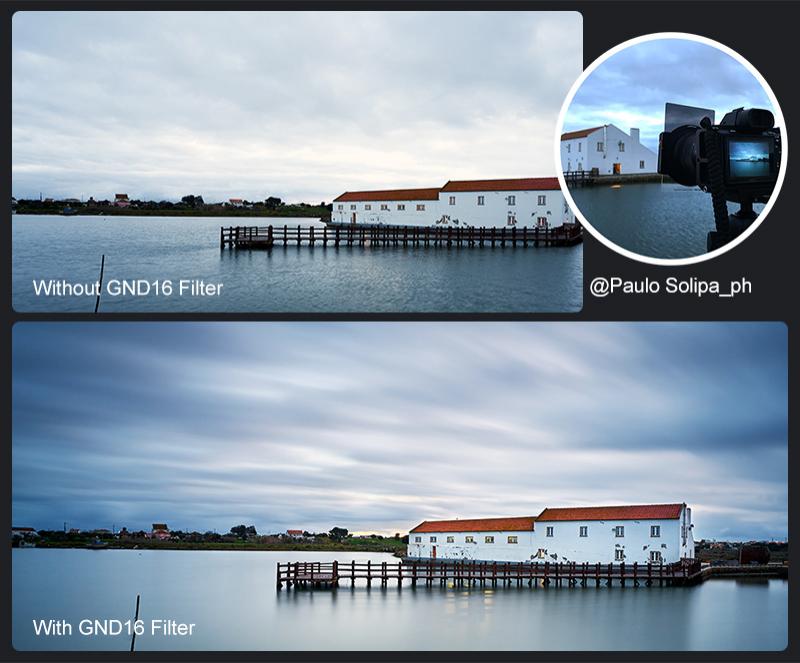 Double-sided grinding and polishing
Reduce Exposure in Selective Area. It can effectively balance light ratio and contrast.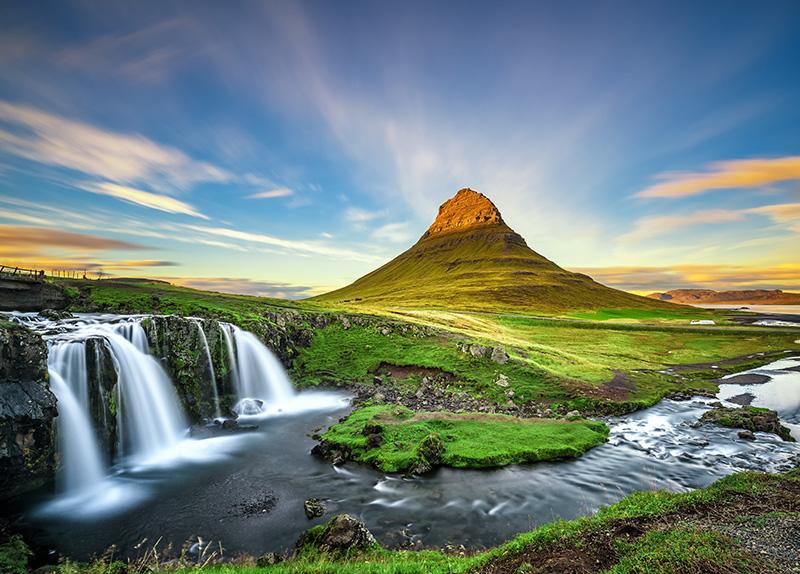 With GND16 Filter
Fix the exposure transition to render the perfect photo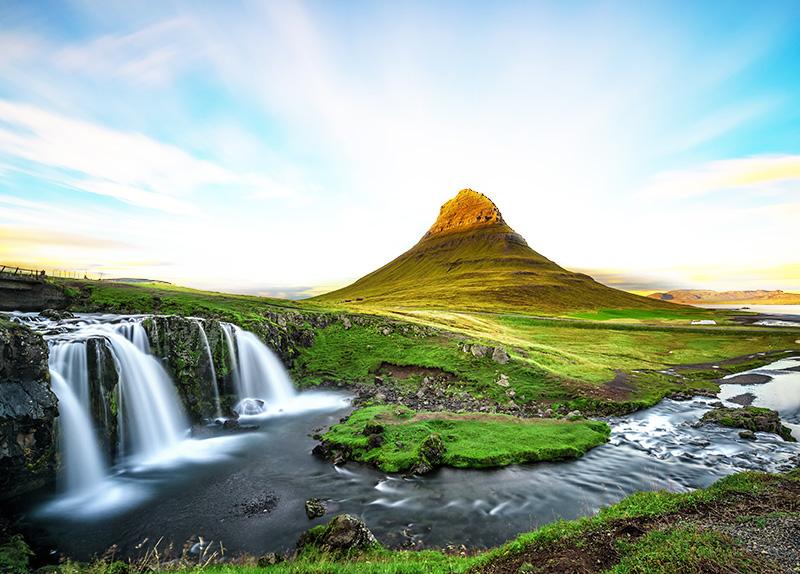 Without GND16 Filter
Sky transition exposure photo is flawed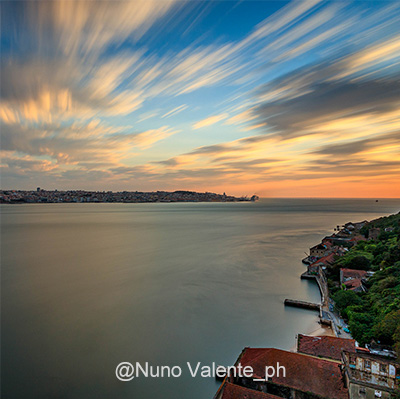 Gallery1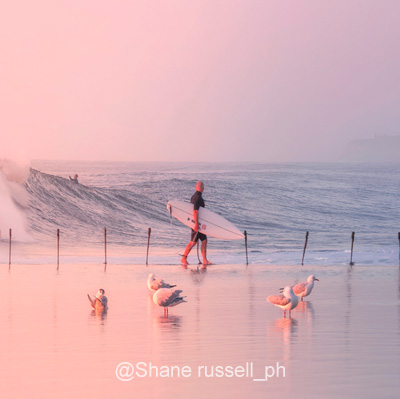 Gallery2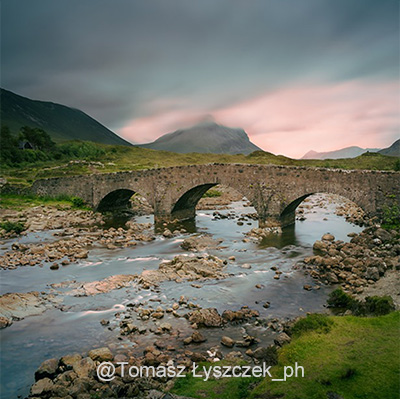 Gallery3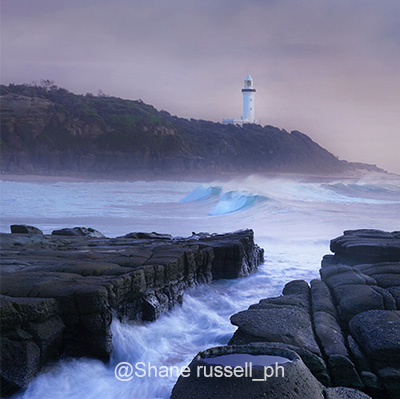 Gallery4
Rating

104 reviews.

109 reviews.

22 reviews.

82 reviews.

105 reviews.
Price

£93.92

£69.49

£105.99

£62.99

£145.99

£98.69

£229.99

£105.99

£93.92

£69.09

Model
KF01.1456
KF01.1147
SKU.1600
SKU.1601
KF01.1457

size

100*150*2mm
100*150*2mm
100mm/150mm

Filter Material

Japanese AGC Glass
Japanese AGC Glass
Japanese AGC Glass
Japanese AGC Glass

Multi-Coating

28
28
28
28

waterproof

√
√
√
√

scratch-resistant

√
√
√
√

HD

√
√
√
√

Screen

Nano-X series
Nano-X series
X-series
X-series

zoom range

Landscape Photography
Landscape Photography
Landscape Photography
Landscape Photography

Resolution

Light Reduction Effect
Light Reduction Effect/Reduce Exposure in Selectiv
Light Reduction Effect
Light Reduction Effect

light source

1.2(4 Stops)
0.9(3 Stops)
So far so good, its definitely made off glass.
I haven't had the change to do real world testing yet but I've taken a few test shots in my garden to check for loss of sharpness and color casting. I used a macro lens for checking fine detail and wide angle to see if its consistent across the frame. I also checked it against my Lee Filters big stopper.

I couldn't find any percievable loss of sharpness across the entire frame with the macro or wide angle.

There is a bit of a color cast to it from looking at the exif data but shooting in raw the camera adjusted it out for the most part and can be edited out manually if required. Importantly though it seems to be consistent across the entire frame, even at 10mm on my apsc sensor.

I did experience vinetting on the wide angle (both 10mm and 22mm) but again it can be edited out very quickly in lightroom.

It would have been nice if it came with a light gasket supplied with it but for the massive price difference compared to the bigger brands I can forgive them for that. They can be purchased online elsewhere if required which is what I'll be doing.

Overall I'm pretty happy with it, which is just as well really as it managed the slip through my Lee Filters folder when I wasn't paying attention and drop onto the paving slabs in my garden, which chipped the corners of the glass. That's my own fault though as it's a known issue I have with the holder, I experience the same problem with my Nisi filters in my holder so I think it's a bit worn out.
08/03/2022
Best filter among the economic ones
I am a photographer and, in my travels, I also deal with landscaping. over the years I have had the opportunity to try and test filters of different brands and qualities. Quality naturally has its price and from this point of view k & f has never disappointed me. In the filter sector it is the brand with the best value for money. I got to try this long exposure filter and it's one of the best I've ever seen. The glass is of excellent quality and does not cause any loss of sharpness when it arrives in its specially protected imitation leather packaging. it has nothing to envy to more renowned and expensive brands, I point out that I have not noticed any color cast or strange aberrations. If you add an unrivaled price, all that remains is to recommend this filter.
28/02/2022
Brilliant quality
These filters are an absolute highlight, convincingly good quality, everything fits perfectly, everything is packed in high quality and protected and safely protected for transport in beautiful cases.
25/04/2022
Finally my first gradient filter
I've been toying with the idea of buying a gradient filter for a long time, although I have to admit that prices around 150 euros have always put me off. In the end I decided on a K&F sales filter that was a lot cheaper and I really wouldn't be disappointed!
25/04/2022
top quality
am very satisfied with the optical quality of this filter. Especially in comparison (eg with Cokin) it proves that you don't work with a plastic toy. The transitions are smooth and not immediately (frighteningly) noticeable
25/04/2022
It's really worth it...
used this filter for long exposure photography, like photographing waterfalls and streams, to slow down the shutter speed and smooth out turbulent waters. It worked very well. I also shot a very spectacular sunset with it and again it worked very well. The only small negative point for me was a dominant whitish coloring when taking pictures under water. This was slightly removed in editing, so it's not too bad. I highly recommend this filter. Excellent value for money.
25/04/2022
Great amazing price, no color cast
Quality filter, there are 5 steps, it is convenient for sunny days, it comes with a leather case with a magnet to close it, the filter is made of glass and not resin, the quality and price are luxury, I have more expensive filters from other brands and they are worse.
25/04/2022
Great Variable ND Filter
have an ND 400 that I use for waterfalls etc but do not always want to block that much light so was looking for something a little faster Maybe an ND16.I have had variable filters in the past but have never been happy the dreaded Xs on the screen when you rotate or uneven colour cast across the screen.I saw the K&F advertised claiming that you did not get any of thease issues so thought I would try and they are great, very even light reduction across the frame and no Xs.I have the 77mm filter it is really well made there are stops on the rotation so it it easy to tell where the limits are, the frame itself is slightly larger that the 77mm so no chance of vignetting in the corners, the slight disadvantage of this is I can not seem to fit the filter with my hood in place but not a huge deal.Highly recommended.
25/04/2022
Works perfectly
It has a good quality and is super processed. The leather case is very chic and protects the glass.
24/04/2022
Clear and sharp image from min to max
Perfect for my needs. I shoot a lot of outdoor videos and since I can't change my shutter speed, photos tend to be overexposed if I leave my aperture wide open. I have used this Nd filter from minimum to maximum and the image is still clear and sharp. Fits perfectly with my Sony 24-70g Master
24/04/2022
A
1 * Soft Graduated Filter. 1 * Leather Filter Case.
how to check your lens size
Do You Know How Your K&F Concept Filters be Produced? | One-day Tour in Production Line
Gimbal Stabilizers
Product
0.15%
Filter
size
100*150*2mm
Filter Material
Japanese AGC Glass
Multi-Coating
28
waterproof
√
scratch-resistant
√
HD
√
Microscope
Screen
Nano-X series
zoom range
Landscape Photography
Resolution
Light Reduction Effect
light source
1.2(4 Stops)