K&F Concept EOS to NEX Lens Mount Adapter, Compatible with Canon EOS EF EF-S Mount Lens and Compatible with Sony Alpha E Mount Cameras
To

United Kingdom

Expedited Shipping

3-5

business days
Brand:

K&F Concept

Buy K&F Concept k&f concept eos to nex lens mount adapter, compatible with canon eos ef ef-s mount lens and compatible with sony alpha e mount cameras online, £30.99 free shipping to UK.

KF06.069

Availability:

In Stock

30.99

https://www.kentfaith.co.uk/KF06.069_canon-ef-lenses-to-sony-e-mount-camera-adapter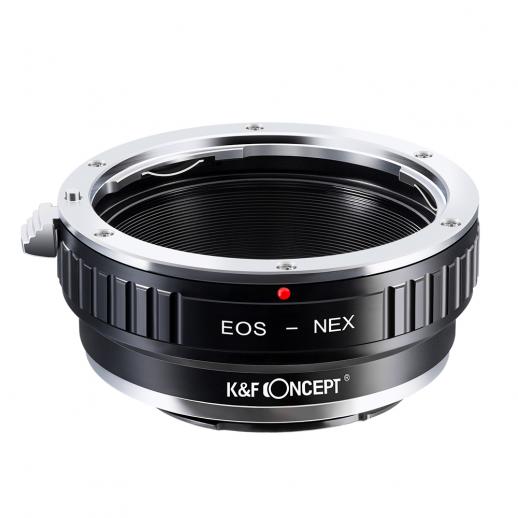 K&F Concept EOS to NEX Lens Mount Adapter, Compatible with Canon EOS EF EF-S Mount Lens and Compatible with Sony Alpha E Mount Cameras
Features
• 【Features】 Manual adapter without electrical contacts, supports focus to infinity. Auto diaphragm/auto-focus is not allowed.
• 【Function】 Mounts EF/EF-S mount lenses to NEX E-mount cameras.
• 【Cameras】 Compatible with Sony Alpha E-mount Cameras: Alpha α7, α7R, α7S, α7 II, α7R II, α7S II Sony Alpha α3000, α5000, α6000, α6300, α6500,α3500, α5100, αQX1, PXW-FS7 Sony NEX-3, NEX-5, NEX-C3, NEX-5N, NEX-7, NEX-F3, NEX-5R, NEX-5T ,NEX-6, NEX-F3, NEX-3N Sony NEX-VG10, NEX-VG20, NEX-VG30, NEX-VG900, NEX-FS100, NEX-FS700, NEX-EA50 etc.
• 【Material】 All-metal design and hardened anodized aluminum construction.
• 【Verify Your Lens and Camera Mount】You can find your lens/camera mount in the len's/ camera's original user manual. Or find your lens/camera on the manufacturers' website and under the product specifications look for "mount type".
Frequently Bought Together
K&F Concept design and produce full range of lens adapters to fit lenses of Canon, Nikon, Pentax, Olympus, Leica, Contax Yashica, Minolta, Tamron, T2, C mount, Exakta, M39, M42, Pentacon etc used on Camera bodies of Canon, Nikon, Sony, Fujifilm, Pentax, Micro 4 3, Leica, M42, Cinema C mount etc.

Very high quality and good price.
This is the second k&f concept adapter I have purchased for Sony e mount. Very high quality. Very pleased. Works exactly as I expected.
Good quality
My son ordered this and unfortunately as the wrong one so returned it. But!! It is a very good quality product and we are now looking at the correct fitment from the same manufacturers. Yes I would recommend.
Insane value for money! A must-have!
Having just swapped over to Sony from Canon, after many years of being loyal to Canon and having many of their lenses, I ended up with a few of their cheaper lenses that simply weren't really worth selling as the shipping and hassle would've been more than what the lenses are worth.So I decided to put the lenses to good use with my new A7 III, but I first needed an adapter. Enter this adapter. It's incredible!Sure, it only allows for manual focus, even though my Canon lenses are AF, but who cares? This adapter has allowed me to get back to basics with my camera and enjoy photography, almost at grassroots level. It's so refreshing, especially with photography being my main business.The adapter is built like a tank, and together with its box, it fits comfortably into my camera bag. I don't go anywhere without it.K&F have knocked this one out of the park! If you're in the market for an EF/EF-S to E adapter, this is the one you want!
Five Stars
Love this product. Works great with my Sonya6300. I mount all my cannon lens on to it perfectly.
One was a good fit, the other was too tight to fit on my camera.
I ordered two, one for a Sony FS7 and one for a Sony A7s. One of the adapters was tight, but firm and solid. The other was WAY to tight. I had to sand and file down the flanges to even get it on, and I had to sand and file the EF mount side as well (I unscrewed the mount and filed the back-side where the springs are) to get it to fit. Still a little tight, but I imagine with time it will be better.
There are no faqs for this product.
These images belong to K&F Concept end users.
| Image | Lens | Mount | Filter Size (mm) |
| --- | --- | --- | --- |
| | ARAX 80mm f/ 2.8 S&T | Canon EF EF-S | 62 |
| | Bell+Howell 14mm f/ 2.8 ED Aspherical IF | Canon EF EF-S | - |
| | Bell+Howell 85mm f/ 1.4 Aspherical IF | Canon EF EF-S | 72 |
| | Bell+Howell 8mm f/ 3.5 Fish-Eye CS | Canon EF EF-S | - |
| | Belomo 17mm f/ 2.8 МС | Canon EF EF-S | - |
| | Beroflex Auto W.W. 35mm f/ 2.8 | Canon EF EF-S | 55 |
| | Bower 14mm f/ 2.8 ED AS IF UMC | Canon EF EF-S | - |
| | Bower 24mm f/ 1.4 | Canon EF EF-S | 77 |
| | Bower 85mm f/ 1.4 Aspherical IF | Canon EF EF-S | 72 |
| | Bower 8mm f/ 3.5 Fish-Eye CS | Canon EF EF-S | - |
| Camera | Mount |
| --- | --- |
| Sony NEX-3 | Sony E |
| Sony NEX-3N | Sony E |
| Sony NEX-5 | Sony E |
| Sony NEX-5N | Sony E |
| Sony NEX-5R | Sony E |
| Sony NEX-5T | Sony E |
| Sony NEX-6 | Sony E |
| Sony NEX-7 | Sony E |
| Sony NEX-C3 | Sony E |
| Sony NEX-EA50 | Sony E |