Square ND1000 + GND8 + Metal Square Filter Holder Set, Graduated Neutral Density 100x 150mm 10 Stops Lens Filter for DSLR Camera
Brand:

K&F Concept

100x100mm Square Filter ND1000 (10 Stop)&100X150mm Reverse Neutral Density Filter 0.9 Graduated Filter Multi Coated with One Filter Holder and 8 Filter Ring

SKU.1601

SKU:

SKU.1601

96.93

https://www.kentfaith.co.uk/SKU.1601_kf-concept-snj51t-square-nd1000-gnd8-metal-square-filter-holder-set
Features
• ND1000 effectively prevents more than light, interferes with the viewfinder, guarantees the quality of picture shooting, and can play a certain dust-proof and waterproof function, which is very suitable for shooting scenery.
• The material of the filter is top-level optical glass, which adopts double-sided multi-layer enhanced coating, which can effectively reduce the surface reflection of the filter. It greatly reduces the glare caused by the reflection of the outer line of the long-exposure lens, and ensures the first-class image quality.
• Soft gradient GND8 square filter, the size is square 100x150mm, the product weight is 47.5g, the lens thickness is 2mm, the applicable lens diameter is 98mm and below, the light reduction is 3 gears (0.9), the transmittance is 12.5%, The reflectivity is 1.5%. The GND8 square plate has excellent anti-reflective rate. The anti-reflective rate of the same level in the industry is only 2%, and the plastic resin is as high as 4.5%.
• The material of the 100mm system filter holder is made of aviation aluminum through CNC-integration processing, and the surface is black frosted and oxidized;
• Included 49/52/58/62/67/72/77/82, seven adapters, perfectly matched with the lens
Frequently Bought Together
ND1000 Square Filter
multi-resistant coating technology significantly reducing lens flare and ghosting while making the filter anti-scratch, water repellent, oil & dust resistant fit for the rigors of adventure photography.
Feature
ND1000 filter provides 10 f-stop reductions and is made with premium Germany Optics glass.
Multi-layer
coating
HD primary
color glass
No
vignetting
Anti-fouling
scratch-resistant
High degree
of reduction
High light
transmittance
Primary color optical glass ND1000- double parabolic mirror
Glass mirrors with no double throw, especially those with longer focal length, are blurred.
Scratch Resistant
The filter anti-scratch, water repellent, oil & dust resistant fit for the rigors of adventure photography.
Primary color glass coating
Water droplets are round.
Other lenses
Water droplets scattered.
Without ND Filter

1/6″ Shutter Speed
With ND Filter

2.5″ Shutter Speed
Soft Graduated Neutral Density
GND8 3 f-stop Filter 100*150mm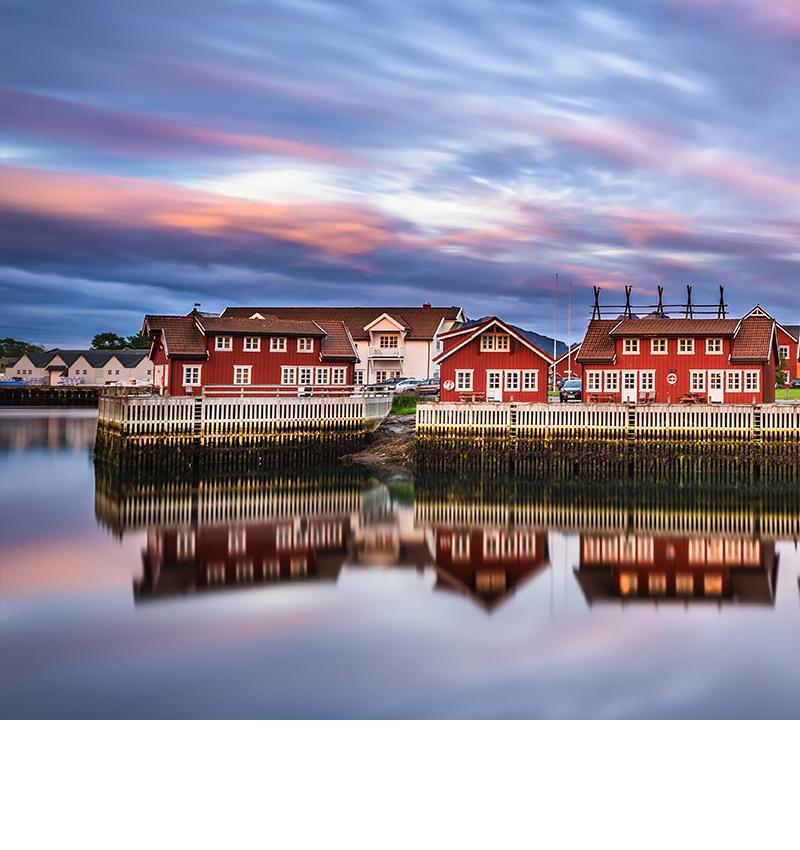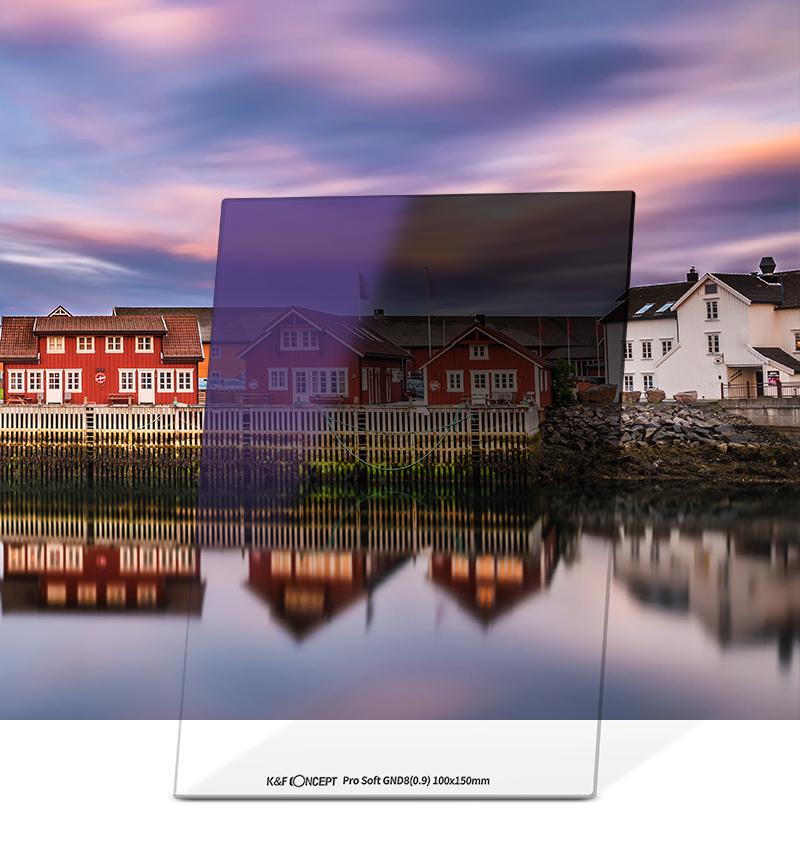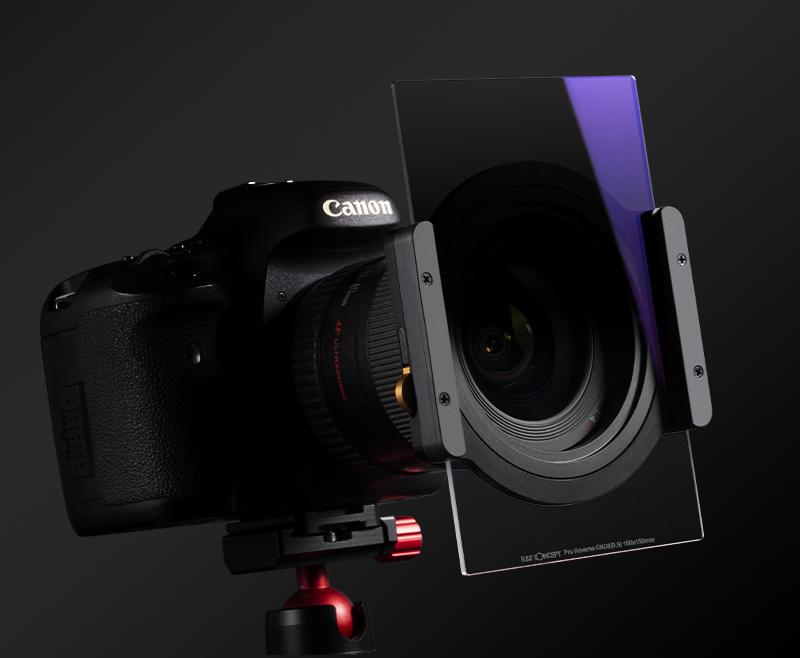 Double-sided Anti-reflective Coating
By double-sided multi-layer anti-reflective coating, the reflected light can
be reduced to below 0.4% to eliminate the influence on imaging.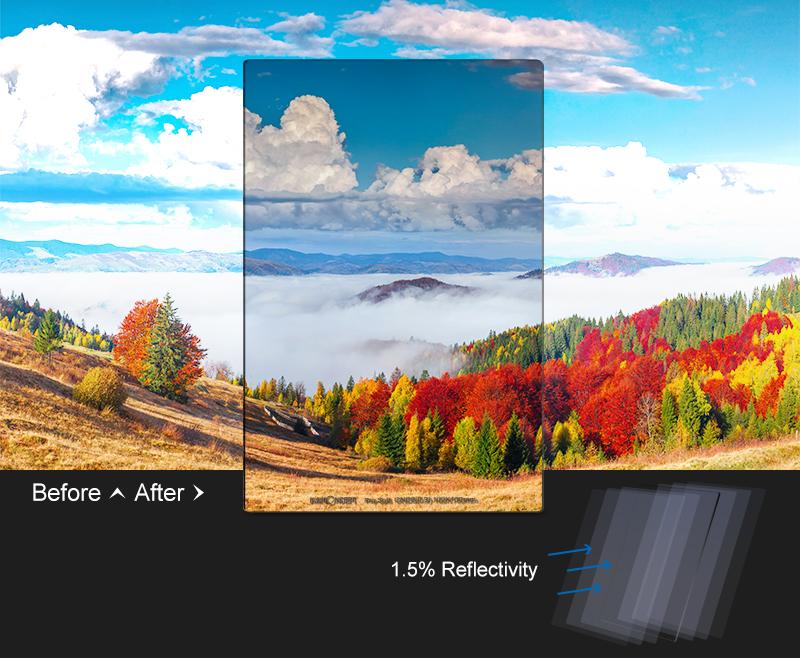 Multi-layer Coating Low Reflectivity
Reduce glare caused by diffuse reflection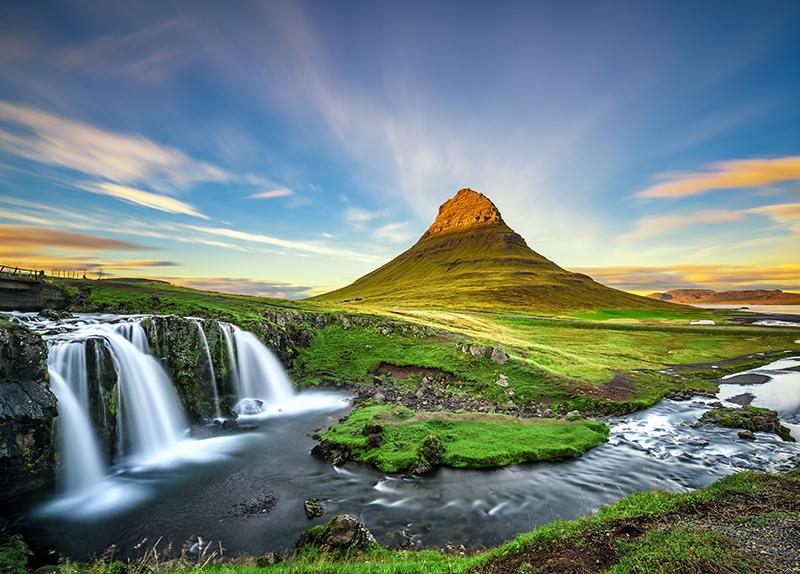 With GND8 Filter
Fix the exposure transition to render the perfect photo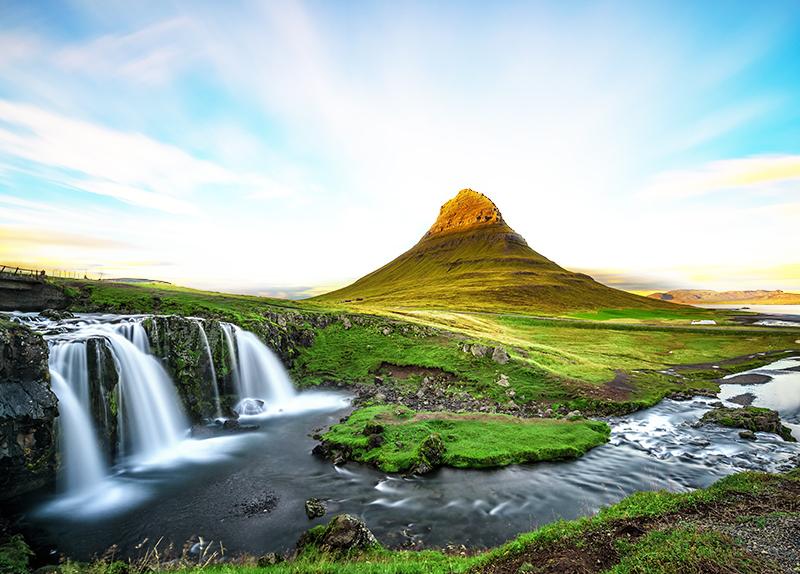 Without GND8 Filter
Sky transition exposure photo is flawed
I bought this ND filter kit as I have had a great experience with K&F (their tripod is brilliant) and was looking for a system that would work with all my lenses. Firstly, the quality of the packaging and storage is extremely high, the glass comes in its own case that keeps it clean and safe. Secondly, it's very easy to set up and use (a little fiddly if you hand are cold) and thirdly, the picture quality is great, there is no colour casting (the colours you see in the images above is my editing, not the fault of the ND filter) and it allowed me to blur the water and clouds in the middle of the day.
20/07/2021
The filter comes in a nice protective packaging and arrived in perfect condition. It is well made and represents a very good value compared to more expensive options/brands. From my testing, the filter density is near/exactly 10 stops. There is a noticeable, but moderate blue color cast with the 10 stop, which can be corrected in post. I did not notice any loss of sharpness.
14/07/2021
this is a great quality piece of glass that comes in a nice solid leather protector. I always wonder why they dont make the same model a bit wider to fill an entire matte box for wider lenses but what do I know Im just the guy who uses these for a living hahaha!
Regardless this is a top quality filter I just hate that I need to always jimmy rig it into a matte box so it stays in place because its never wide enough.
07/07/2021
That filter is really amazing! No scratch at all. I tried it for sunset, sunrise and daylight long exposure shot. I don't see any issues. If something happened, I will update this review. There is no color cast. Very Excellent quality. Great Affordable!
07/07/2021
That filter is really amazing!
20/10/2020
These images belong to K&F Concept end users.
There are no faqs for this product.